Baby Monitor History: When Exactly Were They Invented?
Summary: In this article, you will learn everything you need to know about baby monitor history.
I'm truly fond of baby monitors, what they can do, and the benefits attached to them.
And it's good to see just how the technology has evolved, from mediocre, substandard devices to premium grade solutions that, if anything, parents can rely on to connect with their babies.
Closely tied to your peace of mind, especially during the night when your child is sleeping in their room, a monitoring device is one of the most important essentials to add to your shopping list.
And since you have access to a guide on how to choose  a baby monitor, finding one should be a no brainer.
Look:
Baby monitors weren't as cutting-edge back in the day as they're today. They were simple, with poor audio quality subject to signals interruption, which, for the lack of a better word, rendered them lousy to a certain degree.
But technology evolved and so did the baby monitors. So let's take a step back and ask a very important question:
When were baby monitors invented?
Table of Contents Let's Start with the BasicsTypes of Baby Monitors since InventionWhen Were Baby Monitors Invented?Zenith Radio Nurse Had LimitsThen Came the Frequency Hopping Spread SpectrumBaby Monitors TodayMy Final Thoughts on Baby Monitor History
Let's Start with the Basics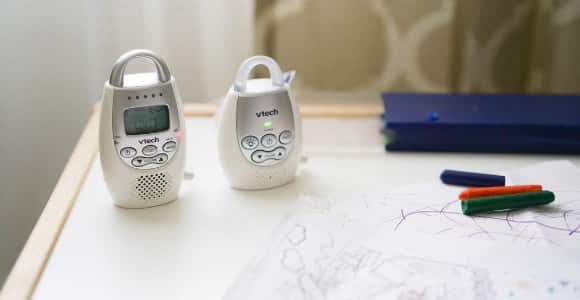 Before baby monitors, the only way to know what was going on in your child's room way to go right in there and check for yourself. You had to do this several times a day, every day.
Today, you can use this radio system to connect with your child, monitor sound coming from their room, and track all their movements.
As manufacturers continue to improve the quality and accuracy of these devices by the day, expect to see more advanced and secure units in future.
For now, what we know is we're pas the age where sound was the only thing you could hear from a nursery.
Today's monitors are so advanced that they can provide video feed, detect nursery's temperature, provide clear night vision, support talkback communication, and even monitor breathing.
Simply put, if you're looking for a third eye and ear that can help you stay connected with your little champion, then a baby monitor may be necessary indeed.
Types of Baby Monitors since Invention
There have been at least four types of baby monitors since invention: audio, video, Wifi, and movement units.
An audio monitor is the expensive type. And it's often more than enough use if all you want to hear is the sound and noises coming from the nursery.
A video-enabled unit is an advanced version. In addition to letting you hear the sound and noise that your child makes, they allow you to see them in real time. In general, they're pricier than audio units are.
A Wifi monitors works from anywhere in the world, provided you have access to a stable Internet connection. It features a dedicated iOS/Android app that transmits audio and video feed from a transmitter installed in the nursery. However, it's prone to hacking and it's very expensive.
Movement monitors let you track your child's breathing, especially in the first few months of their development. With an exception of Angelcare AC701, these monitors generally don't feature parent units.
Usually, movement monitors have alarms that go off right from the crib. At their best, they could help you to protect your child from SIDS. At their worst, they're subject to false alarms and can cause unnecessary panic.
If you closely examine audio, video, and Wifi monitors, you will notice that they have one thing in common: effective operation range. Many of these fall in our list of long range baby monitors, because they have a decent coverage that work through thick walls.
When Were Baby Monitors Invented?
The baby monitors you know today were foreign and unheard in the 1930s. In fact, they didn't even exist before this time.
A sad story would lead to the creation of the first unit in history, which would become the foundation for the development of the units we have today.
One evening, in March 1932, Charles Lindbergh heard sound coming from his kitchen, more like the slats of a wooden crate scrapping. However, it wasn't loud enough to distract his attention.
Half an hour after the noise, the family nurse went to check on Charles's twenty months old son. But she found his crib empty.
A kidnapper had disappeared with Charles Lindbergh Jr. The news spread and it became a major concern, one triggered a demand for baby proofing.
The kidnapping of Lindbergh baby stimulated a paranoia that led to the creation of the first baby monitor.
In the same year, Eugene McDonald Junior, the late president of Zenith Electronics, began to experiment with speakers, microphones, and radio equipment in hope that he would build a system that would allow him to capture noise and movement in his daughter's room.
If the concept worked, he'd go ahead and use the technology to make sure that what happened to Charles Lindbergh's family never happens to anyone again.
Having assured himself that the idea would work, McDonald handed the project to his engineers and asked them to create a more streamlined system for the market.
By 1937, Zenith Electronics engineers, led by a Japanese-American designer, Isamu Noguchi, had a first baby monitor consisting of two parts: The Guardian Ear, a transmitter that sat by the crib and the Nurse Radio, a receiver that stood on parents' bedside table.
Zenith Radio Nurse Had Limits
While Zenith Radio Nurse was a unique concept and an invention in its time, the product didn't quite progress commercially, and for five reasons.
It couldn't work well at high volume, so parents had to struggle to get the most out of the monitor. Users who increased the volume to maximum would experience audio distortion and the speaker would rattle.
Signal transmission was mediocre at its best. Audio signals traveled through electrical wiring, which, as you can imagine, was an expensive and involving setting up.
Signal interruption was quite prevalent. Zenith Radio Nurse would pick random radio waves from the area, making them less effective and useless at times.
Again, Zenith Radio Nurse was very expensive. It cost $19.95 at the time, an equivalent of $325 today. Very few parents could afford it.
Communication was only one-way. Such a thing as talk back communication was but just imaginary.
As much as Zenith Radio Nurse never took off, it did pave way for the development of advanced baby monitors like Infant Optics DXR-8 and iBaby Care M7.
Then Came the Frequency Hopping Spread Spectrum
Commonly pronounced in its initials, FHSS, Frequency Hopping Spread Spectrum is a technology that allows signals to hop from one sub-frequency to another during transmission.
It provides a higher level of data security and it's quite common in digital audio and video baby monitors.
This technology is as old as Zenith Radio Nurse is. It actually dates back to 1941. And it wasn't until after the discovery of digital signals in the 90s that it went into full effect.
The purpose of FHSS technology is simple: to ensure 100% privacy by encrypting signals end-to-end for secure communication.
Its effectiveness and reliability makes it one of the safest technologies in the world, which is why units like Hello Baby and Infant Optics DR-8 use it.
Baby Monitors Today
After Zenith Radio Nurse failed, baby monitors had to wait for another 50 years to come back to the market.
In fact, it wasn't until in 1980s, around the exact same time wireless phones appeared, that manufacturers revived the concept of rebuilding and re-launching advanced systems for parents and caregivers.
Today, we have cutting-edge options that every parent, yourself included, can rely on to keep an eye and lend an ear to a child.
The materials used for design got better. Clumsy vacuum tubes and unreliable wiring ceased to exist. Manufacturers replace old school technology by advanced and reliable electronics.
Until today, video and computer integration has been the greatest achievement in baby monitors' history.
Talk of LED sound indicators, talkback communication, infrared night vision, temperature sensor, HD cameras, High Definition video feed, smartphone integration, pre-built lullabies, and audio clarity, and it doesn't take you long to realize just how improved and versatile modern baby monitors are.
My Final Thoughts on Baby Monitor History
If we look back at this history, and compare Zenith Radio Nurse with modern baby monitors, it's undeniably clear that we've come a long way.
The ability to keep a closer eye on a child and listen in very clearly may have been impossible in 1932. But it's now something you can do on a daily basis.
Whether you want to hear your baby's sound, see them in a live video feed through a parent unit, peep into their crib at night through the night vision, or monitor their movement, heartbeat and breathing pattern, you can now depend on a baby monitor for help.
One thing that's hard not to love about modern baby monitors is their accuracy. With up to 98% guarantee in effectiveness, it's highly unlikely that they are subject to false alarms.
Moreover, you get tons of features, which you can take advantage of and have a great time looking after your child without stepping a foot into their room.
So welcome to the new age of advanced baby tech and I hope you have fun keeping an eye on your little champion.