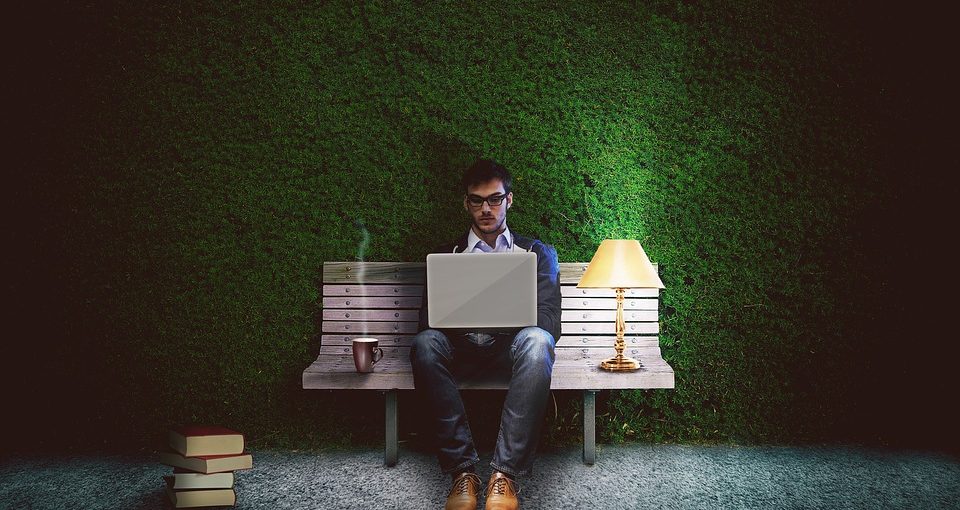 What Are the Best Laptops for Freelance Writers, Content Creators, and Bloggers?
We writers don't necessarily need too much to do our work. A pen and a paper for writing first drafts or brainstorming will pretty much do. Add a strong cup of coffee and the best laptops for writers and we are good to go.
Whether you are an online journalist, a blogger, or an essayist, you will want to digitize your work at some point.
And while you may think that any old computer will get the job done, that is not always the case.
What you need is a robust machine that can get your writing job done.
We chose these laptops based on the huge number of reviews and ratings, and the vast features they offer to any budding writer. These include excellent battery life, generous RAM, and great display.
At a Glance: Our Picks for the Best Laptops for Writers
| | | | | |
| --- | --- | --- | --- | --- |
| | | | | |
| | | Samsung Chromebook 2 XE500C12-K01US | | |
| | | Apple MMGF2LL/A MacBook Air | | |
| | | Acer Chromebook 11 CB3-13-C3SZ | | |
| | | Oemgenuine Lenovo ThinkPad T460 | | |
Cheap Laptops for Freelance Content Writers and Bloggers
1. HP Chromebook 14 Laptop for Typing
When you think carefully on how you use your laptop or computer, you will realize that e-mail, internet browsing, and work take up most of your time.
The HP Chromebook 14 is an excellent machine for someone looking for a device that gets the basic tasks, like content research and writing, done. You can check mail and surf the web with it. And it is fast enough for majority of other tasks.
It features a bright and crisp 14" screen, and its keyboard and track pad are excellent. This is not to say that the Chromebook is flawless. However, there is no denying that it is a sturdy, solid, and all-rounded laptop.​
More Connections
The HP Chromebook 14's larger chassis and screen mean that the laptop has more room to accommodate a few more ports and connections than what Chromebook fans are used to.
These connections include an SD card reader, 3 USB 2.0 ports, and a full Ethernet port.
Powerful processor
Thanks to the machine's slim design and the newest Intel processor, you can accomplish just about anything whether at school, on the road, or at home.
Storage on the go
The HP Chromebook 14 comes with 2 years of Google Drive access, which enable you to store as much as 100 GB of content and files.
This means that you can store your files remotely and access them from any part of the world. You only need to have an internet connection.
Chrome Operating System
The device comes with a Chrome OS that's fast, simple and secure. It works great for basic tasks like content creation, media player, file manager, and internet browsing.
View from any angle
The Chromebook 14 enables you to watch your favorite shows and movies from just about any angle. You can lay back and still comfortably watch movies.
This is thanks to the machine's 14-inch, diagonal IPS Full HD screen that delivers entertainment in striking quality, no matter the angle of view.
Robust Battery Life
As a writer, you need a laptop that can allow you to work for long even when the machine is not plugged in to a power source. The HP Chromebook 14 boasts of an excellent battery life.
It lets you work without power for over 6 hours. This makes it one of the most ideal laptops to go for if you're in the writing business.
Our Verdict:
The HP Chromebook isn't exactly a performance powerhouse, but the speediness of the Chrome OS, combined with a powerful processor, makes it a fun notebook to use. It certainly deserves a place in the list of the good laptops for writers.
---
This slim and lightweight laptop for writers offers unparalleled performance and packs a robust Intel Celeron processor, 11-inch HD display, and 9 hours of battery life on one charge. And, it spots an elegant stitched design.
It's fast, booting up in less than 10 seconds and delivering Wi-Fi speeds that are thrice as fast as the standard 802.11n.
In terms of security, the Samsung Chromebook 2 includes security features like sandboxing technology and automatic updates to ensure that your machine is always protected from malware attacks.​
Store Your Files Remotely in the Cloud
Like most other Chromebooks, the Samsung Chromebook 2 is not built with large capacity drives for the purposes of thinness and lightness.
Therefore, rather than you storing your files, photos, and videos on your computer hard drive, Google allows you to save them remotely on Google Drive.
Your stored contents are secure and password-protected. And you can access them from anywhere provided you have an internet connection.
For offline storage, it has a built-in SSD drive that you can keep your files.
Next Generation Wireless
The Samsung Chrome 2 features 802.11ac Wi-Fi technology that delivers 3x wireless speeds than older Wi-Fi generations to give you unseen browsing speeds.
You can look forward to faster downloads, richer and smoother streaming video, as well as much improved gaming experience. The latest Wi-Fi technology from Intel is sure to reshape your internet experience.
Excellent HD Display for an Improved Viewing Experience
If you want to use your laptop for other things like watching movies or even video chatting with friends, you are well catered for.
The Chromebook from Samsung packs a variety of features to enhance your viewing experience. These include exceptional playback, real-time video delivery and 2 high-power speakers.
9-Hour Battery life
Another notable feature of the Samsung Chromebook 2 is its superior battery life. You can use this laptop for the whole day without worrying about recharging it.
What You'll Like
Long battery life
Solid performance
Keyboard is much improved compared to its predecessor
Exclusive apps
What You Won't Like
Only 2 GB of memory
Micro-SD card slot makes it impossible to use standard SD card
Our Verdict
The Samsung Chromebook 2 has a lot to offer. It has extremely superior battery life and packs a robust collection of apps. However, its biggest draw remains the price.
Models such as Acer Chromebook 11 will certainly give you better features. But to get the most value for your buck, the Samsung Chromebook 2 is the automatic choice.
---
Apple MMG2LL/A MacBook is one of the good laptops for writers, and for so many good reasons.
It has a robust 1.6 GHz Dual Core Intel Core i5 processor that complete with fast Intel HD Graphics 6000 that helps you perform your computing tasks easily and smoothly.
With a RAM capacity of 16 GB, the machine is superfast and can multitask by running several programs in the background.
Also, it comes with a 128 GB flash storage that is faster compared to normal hard drives. Not only does it enables fast startup but also opens stuffs in the twinkling of an eye.​
Great Keyboard
For a serious writer, laptop computers with excellent keyboards are just as important as the RAM. And the Air doesn't disappoint one bit.
Although the keyboard has not changed, it's an area I would be happy to continue working with. By the way, it only has 1 mm of travel area. So, typing on this laptop is very comfortable and it's something you will love.
Epic Battery Life
It's a common secret that the battery life of a couple of the past few MacBook generations have been impressive. And the MacBook Air has not broken from the tradition, as it stands out as a laptop with long battery life and lightweight.
The battery can last for a whole 14 hours, which is the battery life you can ever find for this price range. This means you can do your work for a whole day without plugging your machine to power.
Blazing Flash Storage
The MacBook Air boasts of a blazing flash storage that is much better compared to what other machines in the same price range have to offer.
It can copy files at a speed that is as high as 358.4 Mbps. This is twice faster compared to Yoga Pro (175mbps), Asus UX305 (154.2 MBPS) and HP X360 which has a copying speed of 141.4 mbps.
What You Will Like
Excellent battery life
Super fast flash storage
Strong overall performance
Great keyboard
What You Won't Like
Design could do with update
It has lower resolution display than competitors
Our Verdict
While the MacBook Air does not represent cutting edge of computing any longer, it still beats so many other laptops in the same price range.
Combining fantastic portability, decent value and a very good battery life, the MacBook Air remains a joy to work with for writing and other daily tasks.
It may not have the same star power that it had before, but this does not mean we should deny it credit where it's due.
---
4. Acer Chromebook 11 CB3-131-C3SZ – Laptop with Long Battery Life
As far as Chromebooks go, this Acer Chromebook 11 is a reliable, affordable, and surprisingly good laptop for writers to consider. It is the updated version of the CB3-131 Acer series. For a price under $300, I can tell you straight away that this is a steal.
Considering the low price, I want to emphasize that this miniature laptop does have certain limitations. I will expand a bit on this later.
The laptop stands out from the competition thanks to its smart design, long lasting battery and stylish color. If you factor in its incredibly low price tag, there is little doubt that it's such a big deal.
All Day Productivity
With a battery that lasts you virtually throughout the day on a single charge, the Acer Chromebook 11 maintains the full Chrome OS experience at your disposal.
Its 9 hours of battery life enables you to work and play for the whole day.
Couple this with the fact that you can carry it to just about anywhere, and you have productivity like you've never seen before.
Connectivity
The sleek design of the Acer Chromebook 11 features I/O ports that are directly incorporated in its slim profile.
It comes with one 3.0 USB port that helps you send and share data faster than ever before.
Also, all the files will appear automatically in the new Files app of the Acer so the data is always at your back and call.
Remote Storage
The Chromebook 11 enables you to store and access your music, photos, documents, videos and much more from any part of the world with Google Drive.
Not only is it simple but also your file will be automatically backed online, safely and securely. You have 100 GB of unpaid Google Drive for 2 years.
Built-in Apps
Chromebooks comes with built-in popular apps like YouTube, Gmail, Search, and Hangouts. These let you play, work and do just anything you want straight out of the box.
You can create documents, presentations, spreadsheets, and drawings using apps like Slide Rocket, Google Docs, and Zoho.
What You Will Like
Excellent battery life
Great screen
Relatively affordable
What You Won't Like
Feels hollow
Small keyboard
Speakers appear muffled on certain surfaces
Our verdict
The Acer Chromebook 11 is an excellent, inexpensive laptop. Thin, lightweight and having a battery power closer to 10 hours, the Chromebook 11 boasts the portability of an ultra book, if not the performance. Use its internet to save everything you do.
---
For a long time, Lenovo have been known to produce good laptops for writers and photographers with their tactile, springy keys giving writers an enjoyable typing experience.
In fact, Oemgenuine Lenovo ThinkPad is one of the laptops with impressive keyboards on the market today.
The keyboard of the ThinkPad T460 is not only spill resistant but also sturdy, and has the feeling of being tough and well made.
The sturdiness is mostly due to the strict testing by Lenovo that certifies laptops to a doctor's prescription.
Speed isn't a big deal for the T460, as it sports an Intel i5-6200U processor as well as internal memory of 16 GB. This ensures you can multitask easily without any delays.
Also included is the 240 GB SSD drive helps improve booting times.​
Keyboard and Touch Pad
The spill-resistant keyboard of the ThinkPad T460 offers a truly great typing experience, complete with smile-shaped keys that provide lots of travel.
The keyboard requires only 50g of force in order to actuate, and it doesn't feel snappy the way other ThinkPads do.
Performance
Featuring 16 GB RAM, Intel Core i5-6300 CPU and 256 SSD, the ThinkPad T460 is more than able to multitask and let you do serious productive work.
The system will serve you faithfully without showing any signs of lag even when you have more than 10 chrome tabs open and a video playing.
Display
It has a very responsive touch screen, with smooth zooming and scrolling, and it will accurately translate your intended actions even when onscreen elements you are tapping are quite small. The display screen also features In-Cell Touch Technology.
Battery Life
The ThinkPad T460 uses PowerBridge technology that combines the internal 3-cell battery with removable 3/6-cell unit.
Since the external battery is bound to get depleted pretty easily, and you can swap in the spare unit without switching the computer off.
Better still, you can buy the laptop with high, medium or low-capacity battery, and the difference in price isn't that much-$15.
What You'll Like
Superior keyboard and screen
Durability features
Solid performance
Power Bridge technology helps in battery hot-swapping
Excellent battery life
What You Won't Like
It has a staid design
Does not have GPU upgrade
Our Verdict
The Lenovo ThinkPad T460 is one evolutionary step for the most evolved mainstream laptops of today. It features new Intel CPU that boosts performance while at the same time extending battery life.
Also, the laptop gives you one of the top mobile keyboards you can ever hope to get.