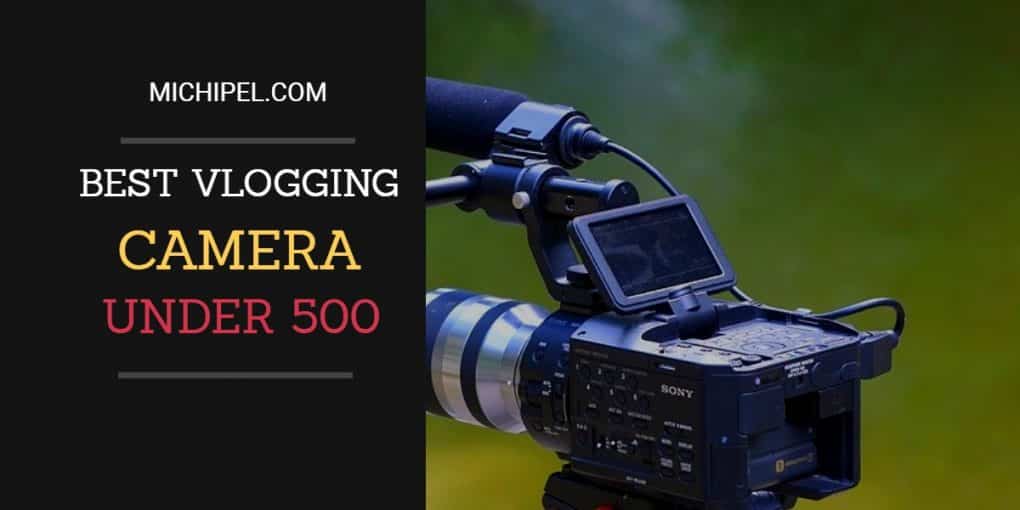 What's the Best Cheap Vlogging Cameras in 2020?
Looking for the best cheap vlogging camera in 2020? Then this guide is for you.
Apparently, the craze for vlogging is deeply overwhelming.
In a way, this art was the missing puzzle that humans needed to make the internet audience more informed and entertained.
In fact, from the days of Adam Kontras and Steve Garfield to the founding and exponential growth of YouTube, we've seen a growth in the number of video bloggers than we can even count.
In this day and age, you – too – can become a successful vlogger, even if you have never stepped into a videography classroom.
All you need is a YouTube account, ability to think outside the box, and a high quality video camera.
Unfortunately, the hottest cameras for video blogging don't cost your pocket change for sure.
Since breaking the bank isn't really a necessary evil here, I wrote this guide to help you find a video blogging camera that you can buy for under 500 dollars.
So, you can buy a cheap camera, and still enjoy all the benefits of video blogging.
| | | | |
| --- | --- | --- | --- |
| | | | |
| Sony DSC-RX100 Digital Camera | Sony a5100 Mirrorless Digital Camera | Nikon COOLPIX A900 Digital Camera | Canon VIXIA HF R82 Camcorder |
| | | | |
| | | | |
Best Cheap Vlogging

Cameras Review

Below is a list of the top video cameras that you can buy for cheap for the purpose of video blogging
Vlogging Camera Under $500
The following is a list of video blogging cameras that you can buy for less than 500 dollars.
1. Sony DSC-RX100 for Bloggers
Sony DSC-RX100 is as close to perfect as it can get.
It is a feature-packed option for video bloggers that love lightweight, compact cameras that can shoot high quality images and videos on the go.
As good as Sony DSC-RX100 is, though, it doesn't come with a flip screen. It doesn't have a microphone input either.
Big cameras are good. But they can be difficult to hold, especially if you intend to vlog all by yourself.
More often than not, no one wants to struggle carrying essential gears around, and a vlogging camera that cost you under $500 is not an option.
Sony DSC-RX100 is small, compact, comfortable to hold, and it gets the job done. It is lightweight; you won't struggle to bring it around with you wherever you go.
Sony DSC-RX100 is one of the few options for video blogging that lets you capture slow-motion videos of your moments out there.
In fact, the 1.8f lens lets you record your videos at 60fps (frames per second), a speed higher than many options offer.
Sony DSC-RX100 even allows you to record your videos between 30 frames per second and 60 frames per second at a higher resolution of 1080p.
2. Sony a5100 Mirrorless Digital Camera
If you are looking for a compact camera with high quality DSLR sensors, you should try Sony a500.
The 24MP APS-C sensors let you shoot images and videos even in low lights, and the 25 contact-detection point combined with 17 phase-detection points allows you to have a clear focus at your subject all the time.
A5100 is quite compact. So, it should fit in your hands easily.
Because of its size as well as the DLSR-quality sensors, Sony A5100 makes a perfect deal for on-the-go image or video shooting.
In fact, it doesn't feel heavy on hand; at least you won't feel its weight for hours.
Like Sony DSC-RX100, the A5100 lets you shoot videos at 60fps. The result is sharp, smooth, detailed motion.
Although it can shoot well in low lights, images and videos will have noticeable grains when you shoot at ISO3200.
Sony A5100 has a decent battery life.
The company confirms that the battery can last for about 75 minutes of video and about 400 photo shooting hours before the battery drains.
For an average day of video and/or image shooting, Sony A5100's battery life should be good enough.
Video Blogging Cameras under $400
If you're looking for vlogging cameras that cost less than 400 dollars, then you should consider the following options.
3. Nikon COOLPIX A900
Nikon COOLPIX A900 may not be as compact as many options out there. But its zoom feature is hard not to love.
The 40x optical zoom lets you bring your subject closer without lifting a foot.
You can zoom in and out accordingly, until you get your subject properly, no matter how distant they are from where you are standing.
Nikon COOLPIX A900 has a large lens, so it won't fit in your pocket. It is also not lightweight, so you can't carry it on your hand for long.
You will need a backpack to bring it with you to your shooting site.
What makes Nikon COOLPIX A900 a good deal for the price is the optical image stabilization as well as the auto focus system.
Together, these two features enable videographers to capture smooth, exposed, crisp videos for blogging.
With this Sony a500, you can record High Definition, 1080p High Resolution videos at 30 frames per second.
Like Sony A5100, Nikon COOLPIX A900 can capture videos and images in low lights.
And although the images and videos captured in low light aren't perfect, they are good enough yet.
To overcome the light performance factor, you have both ISO 80-3200 and 3-inch title TFT LCD.
This Sony a500 features a built-in Wifi system for internet connection as well as Bluetooth connectivity that you can use to connect the camera with an external device, say a tablet, a good laptop, or desktop computer.
Vlogging Camera under 300
For option that go for less than $300, check out the recommendations reviewed below:
4. Canon VIXIA HF R82 Camcorder
If it's compact, lightweight, and easy to carry around, then it is probably a camera worth investing in.
But you are spending money anyway, so you need to look beyond the lightweight nature of the gadget.
Canon VIXIA HF R82 Camcorder is more than just lightweight. It is an option that also does a better job in low light recording.
Other remarkable features include a decent battery life, a flip touchscreen, and wireless internet (WiFi).
Canon VIXIA HF R82 Camcorder supports both NFC and WiFi network connectivity. This lets you share photos and videos with people you care about.
With the NCF connectivity, you can connect Canon VIXIA HF R82 to your Android or iOS smartphone via the Canon Window app to transfer the image and videos files to your computer, ready for sharing on YouTube and Social Networks like Facebook and Instagram.
In my opinion, the super powerful zoom feature is what makes Canon VIXIA HF R82 Camcorder an ideal option to consider if you have a budget of less than 300 bucks.
The 57x advanced zoom lets you capture long-range images and videos.
Whether you want to shoot family videos, capture animal photos from a distance, or shoot videos for your YouTube channel, the zoom feature gives you the flexibility you need to produce high quality content.
Camera shakes are hard to avoid. Even the most experienced videographer shakes their device unknowingly sometimes.
People that use Canon VIXIA HF R82 Camcorder never have to worry about the shakes, because the integrated image stabilization feature can help to correct these errors.
Vlogging Cameras for Less Than 200 Dollars
For even a more cheaper option, especially for someone on a very tight budget, here's an option to consider.
5. Canon PowerShot ELPH
With 16-megapixel sensor, NFC and WiFi connectivity, and 12x optical zoom with stabilization, Canon PowerShot ELPH has just the right bells and whistles for a perfect device for recording high quality videos for personal blogs and YouTube channels.
In addition to the widest viewing angle, you get a full-year limited warranty from the company.
Canon 340 looks crisp with rounded corners, and it is definitely fits in the pocket.
However, the 340 doesn't hit the jackpot when it comes to size and weight; it is slightly larger and a little heavier, unlike the ELPHs.
So, if you intend to bring this with you, it would be reasonable to carry it in a backpack.
The first connectivity feature enabled in Canon PowerShot ELPH is the Wifi. It is pretty much the same as the one in the older models.
With this connection, you can connect to virtually any WiFi-enabled device on the same wireless network and share photos and videos with friends and family members.
WiFi connection is a breeze. There are no disturbing lags during photo transfer to whatever device you've connected to the network.
Thanks to the wireless connection, viewing of photos and videos captured using Canon PowerShot ELPH is also possible.
Also, it supports Near Field Communication, a feature that lets you pair Canon 340 with other NFC-enabled devices for image and video sharing.
Vlogging Camera under 100
6. Sony DSCW800/B 20.1 MP Digital Camera
For a vlogging camera under $100, I recommend trying the Sony DSCW80/B 20.1 MP.
The 20.1-megapixel makes capturing finest images a reality.
You get 5 optical zooms, plus 10 clear image zooms for crisp image capturing.
It supports two modes: the easy mode and the sweep panorama mode.
Overall, Sony DSCW800 /B 20.1 lets you capture videos at 720p, this is good enough for vlogging.
You are going to shake this camera unintentionally, it happens all the time. When it does, expect blurs on image and videos.
Instead of deleting blurred scenes, Sony DSCW80/B lets you correct your shots with the help of SteadyShot Image Stabilizer.
The stabilizer not only reduces blurs, but also enables you to shoot sharp videos and take smooth pictures, even while walking.
It is hard to imagine that a vlogging camera in the 100 price range can capture 720p HD videos, until you use Sony DSCW80/B for video shooting.
At 30 frames per second, you can shoot 1280 x 720p HD videos, transfer the files to your laptop for editing, and then upload them to your blog as well as YouTube Channel.
Wouldn't it be fun to capture smiles exactly the moment they happen? The integrated shutter technology lets you do just that.
In fact, you can choose between adult smile and child smile depending on the occasion.
Also, you can determine the degree of smile that you want to capture/shoot.
The technology isn't hard to use; just turn the feature on and let the camera do the rest of the work for you.
How to Choose a Cheap Vlogging Camera
Video blogging is very popular these days. Many people are making videos about exciting topics, their opinions and points of views or just recording their daily lives. Some people even make money out of it.
Investing in a high-quality video camera is very important for vlogging. It allows you to create better videos for your audience.
Selecting an excellent vloging camera can be a challenge. Different companies manufacture cameras with different specifications, prize, durability, and performance.
This section provides you with the necessary knowledge necessary to help you select a budget vlogging camera for your YouTube account and personal blog.
Image quality
The quality of your images is paramount in vlogging. Video resolution is a big indicator of image quality.
The commonly used resolutions is 720p (HD ready), 1080p (full HD) and 4K (ultra HD).
Look for a camera that records at least 1080p or Full HD. Consider a camera with 4K or Ultra HD if you don't have a budget constraint.
Low-light Performance
A camera with excellent performance in low light will come in a handy when working at night or indoors where controlling the lighting can be a tad tricky.
Lens aperture (a good camera lens has a wide opening. It allows it to capture more light and gives excellent aesthetics), amount of noise it shows at higher ISO and sensor size makes a good performance in low light.
Optical Image Stabilization
Video bloggers find themselves recording while moving around from time to time. It can be tough to get images in motion if you don't have a high quality camera.
A camera with OIS allows you to do this. It makes your recording less shaky. Beware of digital image stabilization. It does not stabilize the image.
It is just a marketing trick. Optical image stabilization or 5-axis image stabilization is the real deal.
Microphone
Sound is an essential part of vloging. To capture your audience attention, they need to hear what you are saying.
Most cameras come with built-in microphones, but the downside to these microphones is that they can pick unwanted background noise.
A front-facing amplifier is the right location for a vloging camera. It captures your voice correctly when you are recording yourself.
Microphones on the sides will require you to hold the camera in a way that it doesn't cover the receivers. It can be a nuisance.
Autofocus and Weight
Waiting for your camera to focus or realizing later that the footage you took is out of focus can be very disappointing.
A vloging camera should be able to focus quickly when you change your point of emphasis.
Also, a good camera for vlogging should be light and portable to allow the vlogger to move around with it more efficiently.
Flip Screen and WiFi Connection
Flip screen (it is beneficial when you need to record yourself) and Wi-Fi (it allows you to upload your videos to youtube without using cables) are the other features that will make your vloging much better but aren't vital.
Conclusion
The most important thing to remember is that your needs must be at the core of your decision making.
Before you buy a vloging camera, think about the type of vloging you want to do. In short, determine what you want your camera to do for you before you actually buy one.