Best Professional Hooded Hair Dryers for Home & Salon
Featuring a 1100-watt of efficiency setting power, a hood that evenly distributes heat while removing excess moisture, an adjustable temperature control, and a 0-60-minute timer for efficient deep conditioning treatment, the Pibbs Kwik Dri is one of the best hooded hair dryers for home and salon that's definitely worth trying.
The sturdy caster wheels make the unit easy to move from spot to spot and its stability ensures that it stays in position during use. Pibbs Kwik Dri dries hair easy and fast, so it is an ideal choice for women that need to get ready and get going fast.
Although it is easy to setup, easy to use, and adjustable on many levels, Pibbs Kwik Dri has a few drawback. It can get so hot that you would need a hair net and ear foam for protection during use. The hood isn't big enough to fit jumbo rollers. It is large so it can take up a lot of space, but this is not really a deal breaker for some people.
The Research
You're a woman.
You need to look insanely beautiful and everything about your physical appearance should be lovable. That includes your hair.
It doesn't matter whether you are a stay-at-home mom or a working class woman. Proper hair care is necessary. And it starts with using a good hair dryer with hood attachment.
Hooded hair dryers, as we know them, are primarily designed for well established SPAs and professional salon owners. But that doesn't mean that you can't buy one to use at home.
In fact, you can dry and style your hair from the comfort of your home and still look amazing, just like someone whose hair is done in a salon.
But why buy a hair dryer with a hood instead of a handheld one?
It's because they can dry hair more effectively by evenly distributing hot hair through the tiny openings built inside the plastic dome. Since heat is locked inside the hood all the time, these dryers dry hair a lot more faster with the least effort.
| RANK | IMAGE | NAME | WATTS | SPEED | PRICE |
| --- | --- | --- | --- | --- | --- |
| #1 | | BR Beauty Meredith 880W | 880 | 6 | |
| #2 | | PEBCO Tools Ionic Stand Dryer | 2500 | 2 | |
| #3 | | Ovente 3 Speed Ionic Dryer | 1000 | 3 | |
| #4 | | Tourmaline Tools 1059 | 1875 | 2 | |
Frequently Asked Questions
What is a hooded hair dryer?
It is more like a tall stand with a hood at the top. The hood has what's called vented chambers, which blow hot or cold air depending on the heat settings.
And, it is very easy to use. Just close to the stand, place the hood over your hair, turn on the device, and let it dry your hair.
How many types are available?
The cosmetic industry has three types of hair dryers that have hood attachments. Some come with built-in chairs, but they often difficult to install and not recommended for home use.
Some are attached to an immovable stand, so they aren't easy to move. Then, there are those with wheels that make movement easy.
Who should use one?
If you are a woman who prefers to dry her hair at home instead of calling at a salon every now and then, you most likely should consider getting yourself a hooded hair dryer.
It doesn't matter whether you have black African American, natural or blond hair because the unit can help you to dry them faster.
If you own a salon but you do not have this type of dryer in your set of accessories, this may be the best time to get one.
Unlike handheld dryer, they'll speed up the hair drying process for your clients and therefore boost productivity in your workplace.
Related Guide: Best Hair Dryer Under $100
Best Hooded Hair Dryers for Home and Salon in 2020
Bonnet Dryer for Curly Hair
1. BR Beauty Meredith 880W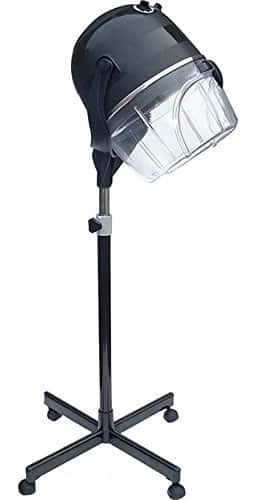 Why you should buy
It does not suck up hair
Works well for long, curly hair
Gets hot fast and evenly distributes heat on hair
It dries hair fast and makes it neat, soft, glossy, and moisturized
BR Beauty Meredith 880W is a simple and affordable unit that features 1000 watts of power, temperature control buttons, timer options and fan control.
It is so quiet that you might not even notice it's on. You and your female friends can tell each other stories, share gossips, or even watch TV when this unit is running. It is easy to assemble, so it should take you less than an hour to have it up and running.
Meredith's hood is big, so it is comfortable to sit under. The 5 caster wheels make the dryer easy to move around, the 1000 watts of power speeds up the hair drying process, and the unit is sturdy so it should last.
Unfortunately, the bell on the timer dings loudly and this can be quite annoying for some people. Meredith is also expensive than some units with the same features.
2. PEBCO Tools Ionic Standing Dryer
Why you should buy
Easily stretches hair into beautiful curls
Dries hair fast
Switch indicators are well placed for easy navigation
There is even a user manual for first time users
It's built to last
PEBCO Ionic Standing Dryer features time and temperature controls and it is quieter than many dryers are when in use. The 2500 watts of power and multiple heat settings dry hair faster.
The temperature switch indicators are placed in their most appropriate positions and they are well labeled for cold, warm, and hot settings. This makes it easy for you to adjust the temperature (heat) of the device whenever you need to.
The opening of the hood lets your head in and out underneath the dryer with less effort. You can even tilt, move it up or down, or push it side to side until it is in a position that you like.
The overall height of the dryer is easy to adjust and the sturdy wheels allows for easy movement from spot to spot.
The biggest problem this unit is that it is shipped in pieces, which takes a lot of time to put together.
Hooded Dryer for Black Hair
3. Ovente 3 Speed Professional Ionic Dryer
Why you should buy
You get three speed settings for cold, warm, and hot
The built-in 60-minute timer aids with deep conditioning treatment
Dries hair fast
Dual heating elements
If you are looking for a hair-drying unit that blows air from top to bottom, try Ovente 3 Speed Ionic Dryer. It is made of General Purpose Polystyrene and Polypropylene Plastic. These materials are tough and elastic, and they can retain their shape irrespective of bending, flexing or torsion.
This dryer doesn't fold down, its pole comes out, its height is easy to adjust, and the hood is removable.
It features 5 rolling wheels for convenience and easy movement. But they can break easily if you drag the unit forcefully and unnecessarily.
Ovente has three speed settings, dual heating elements, a built-in thermostat, and a 60-minute timer. These settings and elements work together to dry hair in the least time possible.
There are at least two problems with this dryer. It is somewhat pricey and maybe not as popular as Salon Sundry's Style Hood. It also takes time to set up.
Professional Hooded Hair Dryer for African American Hair
4. Tourmaline Tools 1059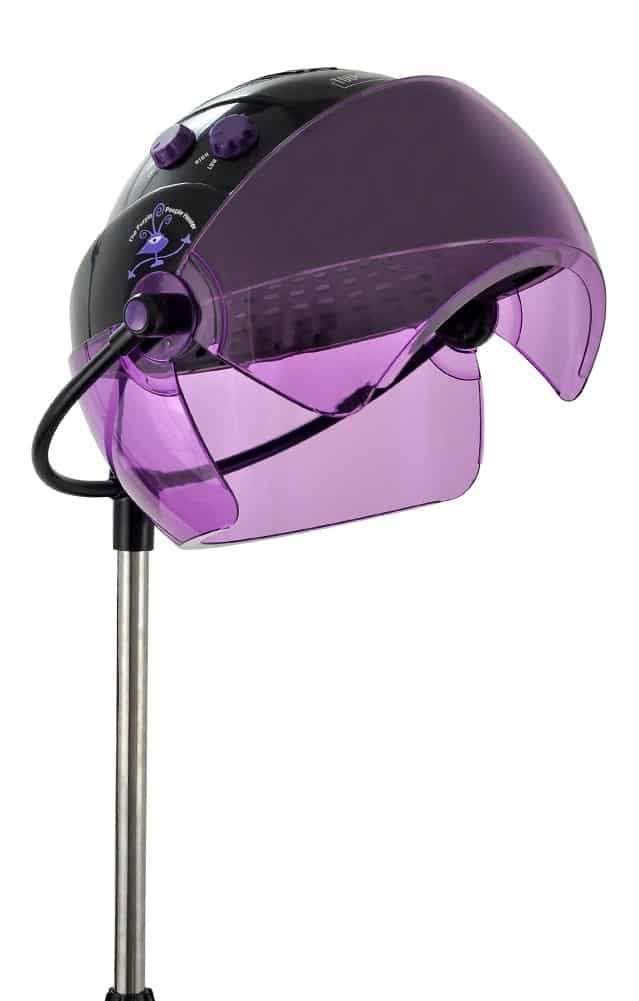 Why you should buy
Tourmaline Tools 1059 is good for you if you love steam driers
Dries hair almost 50 times faster than handheld dryers
Works well for thick, African-American hair
Tourmaline Tools 1059 features a high airflow tourmaline and a direct ion technology that dries hair faster than many handheld dryers do. It has 4 heat options and 2 speed settings, a 9-feet cord, a removable base, and a lockable wheel that boosts stability.
The built-in nano particles generate infrared energy that dries the cortex fast and maintains the softness and natural shine of hair.
The 1875 watts of power is what helps hair to dry fast and the emitted heat leaves hair less frizzy, silky, softer, and brighter.
The biggest problem with Tools 1059 is that some people may find it too tall, hence difficult to put to use.
Ionic Hooded Hair Dryer
5. Babyliss Pro Ionic Roll Hard Hat Dryer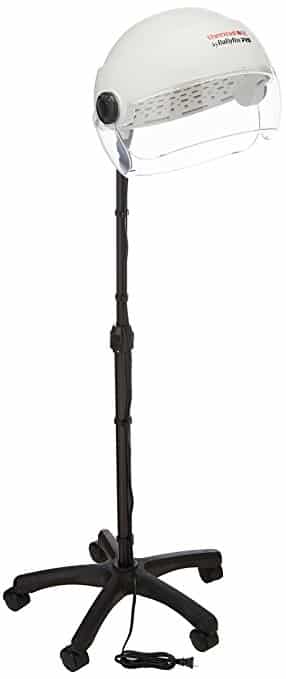 Why you should buy
It dries hair very fast, usually within half an hour
Easy to use hot settings
Doesn't create maddening noise
Suitable for thick hair
Babyliss Hard Hat Dryer has a solid name in the market because it gets the job done well. Although it is a very basic device, it easily cuts down your time to get ready in the morning.
Babyliss Pro Ionic Roll features an adjustable peak that extends well, three temperature settings, a lift up visor, and an adjustable bonnet.
And with its 2500 watts of power, this portable device dries hair within a very short time.
One thing you will notice when you start this dryer is that it gets hot almost immediately. Just like a blow dryer, it heats up a room fast. The fact that it gets hot fast means that it can dry your hair in the shortest time possible.
Babyliss Hard Hat weighs 16 pounds. It is by far the bulkiest product on this list and therefore not a good option for people that love to move beauty accessories from one spot to another from time to time.
Related Guide: Best Blow Dryers for Under 50 Bucks
A Buyer's Guide: What to look for in a Hooded Hair Dryer
1. Ionic Technology
You should choose a product that features a built-in ionic technology. The technology is important because it banishes positive ions and locks hydration in hair to give you smooth, polished, and very beautiful curls.
2. Variable Speeds
We recommend buying a hood dryer with variable speed settings, so that you can control how fast you want your hair to dry.
Remember, the speed settings you choose highly depends on your hair type, and not necessarily on how much time you have left to get your hair done in the morning.
For example, fine, damaged, or broken hair won't require fast drying. You can (and should) dry them slowly to get those beautiful curls.
3. Timer
Make sure the dryer that you plan to buy has a built-in timer. The timing function lets you determine how long you should sit under the hood. It should take around 15 to 25 minutes to dry your hair quite well.
4. Variable Heat Settings
It is important to choose a dryer with variable heat settings.
In fact, this built-in feature is the only function that makes it possible for every user to manage the drying heat according to their hair type.
Keep the device to the lowest heat settings if you have damaged hair. And use higher heat settings if your hair is thicker or coarse.
5. What's the difference between home and salon use?
There is no difference. At the end of the day, the goal is still the same: to dry hair well and in the shortest time possible. Therefore, whether you plan to use the dryer at home or you need one for your salon, you'd need to make sure it has the features you need to give your hair the a treat.
More often than not, a simple dryer with a soft hood should be convenient enough. But it is fine if you fancy sturdier units with more features for personal use.
Usually, it doesn't matter if you are in the market for a hood dryer for business or individual use, what really matters is that you should choose a unit that will last, regardless of the frequency of use.