What's Are the Best Laptops for Computer Science?
Computer science majors need the best laptops for computer science students to make it in the course.
The field goes beyond just mere programming into other areas of technical knowhow such as computer graphics, computer networking, artificial intelligence, and database systems.
In short, you need to understand computers and their processes of computation.
To succeed in your studies as a computer science major, there is no way you can walk in your classroom every day with an unreliable laptop – or no laptop at all.
And given that a laptop is a must-have, how exactly do you choose one?
| Editor's Choice | 2nd Choice | 3rd Choice | 4th Choice |
| --- | --- | --- | --- |
| | | | |
| Asus Zenbook | Dell XPS 13 | Apple MacBook Air | Asus VivoBook E403SA |
| Editor's Rating | Editor's Rating | Editor's Rating | Editor's Rating |
| CHECK PRICE | CHECK PRICE | CHECK PRICE | CHECK PRICE |
Best Laptop for Computer Science in 2021
In this article, we will cover laptops that students can use to pursue their cs course. We will also feature the specs of each product.
After reading the article, you will be able to find a laptop to suit your needs and you will not have to look anywhere else. Let us get right into it.
1. Asus ZenBook UX330UA-AH54 Ultra-Slim Laptop
If you are looking for a good laptop for computer science that is slim and portable with longer battery life and can work with heavy IDEs such as Visual Studio, the Asus ZenBook is your ideal choice.
This laptop features: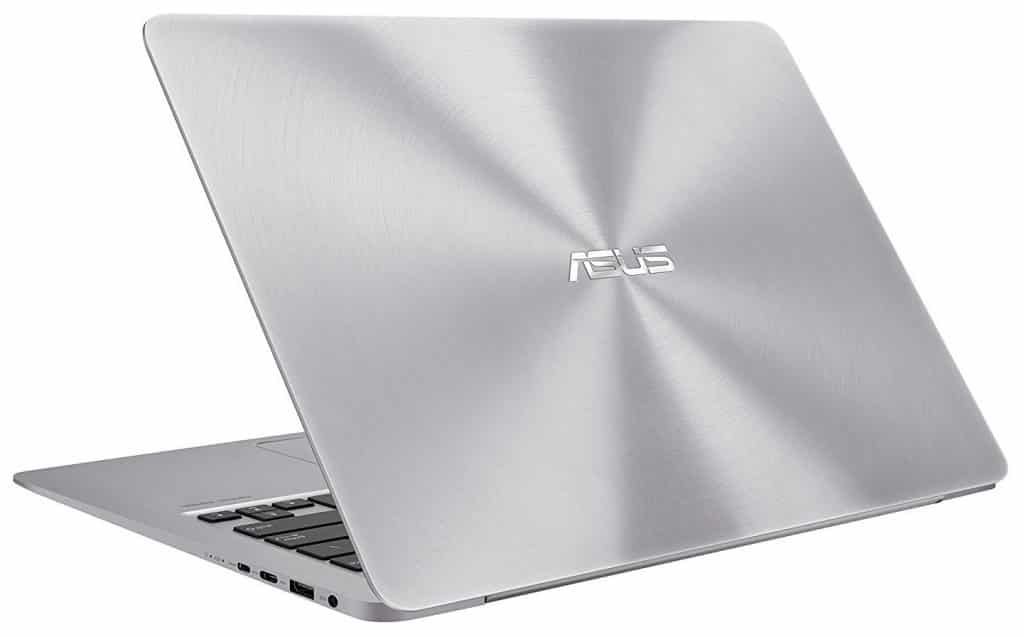 A full High Definition 13.3-inch display
A 1920 x 1080 pixels screen resolution
A 8 GB DDR3 RAM
A 2.5GHz Core i5-7200U processor
A 256 GB Solid State Drive for storage
Intel HD Graphics card
You also get two USB 3.0 ports, connectivity with HDMI, 802.11 as wireless type, D-SUB, SD card reader and an average battery life of 12 hours. Moreover, you get a built-in finger print reader.
A combination of the processor, the RAM, and the storage allows for rapid start-ups and opening of application programs.
The keyboard boasts an ergonomic design and coupled with a long battery life, you can work comfortably for long hours. This machine can easily work with any heavy program.
Pros
Portable and thin
Long battery life
Works with heavy IDEs
Full HD resolution display
Finger print reader for easy login
Cons
The keyboard is not of an acceptable quality
It doesn't have an optical drive
Only has 2 USB ports
Also Check: Laptops for Full-Time Professional Writers
2. Dell XPS 13 QHD+ Touchscreen Laptop
Dell XPS 13 is a laptop for engineering students because it easily supports major developing environments such as Visual Studio and Android Emulators.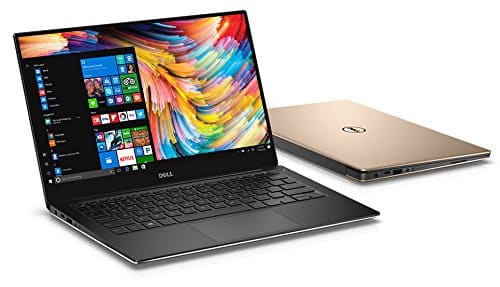 This laptop features:
A 8GB DDR3 RAM
A 3.5GHz Intel Core i7-7500u processor dual-core with a 4MB cache
A 256 GB SSD for storage
An Intel Iris Graphics GPU
A 13.3-inch Screen display for the touch and non-touch models
A screen resolution 1920X1080 full HD
Supports connectivity including 802.11a, 802.11ac, 802.11g, 802.11n wireless type and Bluetooth 4.1
With the Thunderbolt 3, this machine can become a full workstation that handles multiple monitors.
With this laptop, you cannot program iOS devices but you do get compatibility with Linux Systems. That notwithstanding, this machine can handle any coding and development related to computer science.
The touch screen model comes with an Infinity Edge Touchscreen display with 3200 x 1800-screen resolution that produces sharp pictures.
Pros
It has a 7th Generation Core i7 processor
Touchscreen capabilities available
Long battery life
It has a Thunderbolt 3 connectivity port
Compatible with Linux Systems
Cons
A rather small keyboard
Pricey, maybe  due to the display
No optical drive
3. New Apple MMGG2LL MacBook Air
Apple MacBook Air is a very popular laptop among computer science students and professors alike. Although it is a UNIX-based machine, it can run Linux based programs.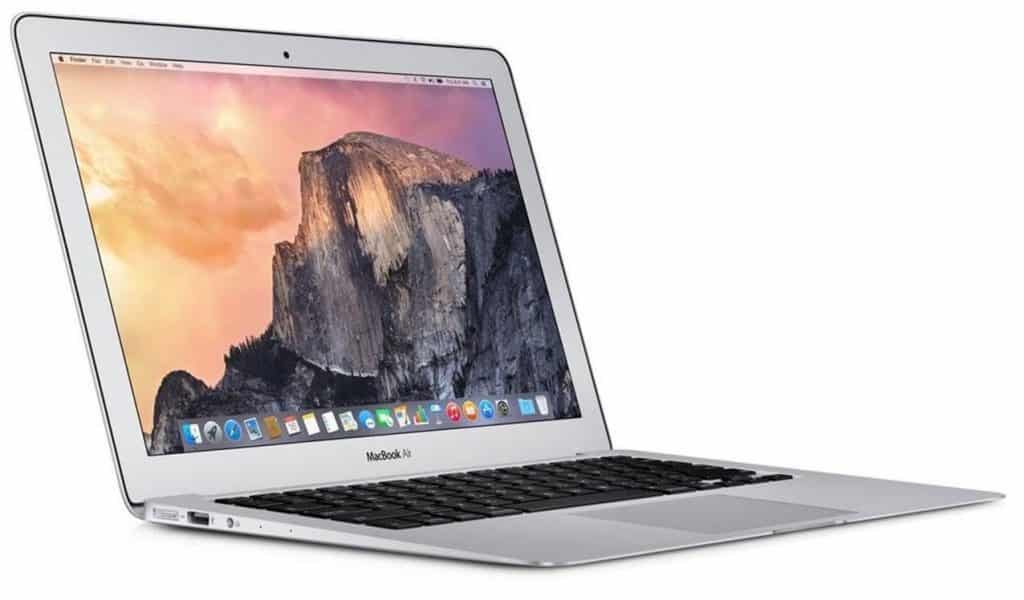 A fun fact, it has preinstalled languages such as Python, Java, and C++, saving you the headache of finding IDEs to program Android and iOS applications.
This laptop features:
A 1.6 GHz dual-core Intel Core i5 processor with a 3 MB cache
8 GB-1600MHz LPDDR3 RAM
A 256 GB PCIe-based flash storage
A 13.3-inch screen display with a resolution of 1440 x 900 pixels
An Intel HD Graphics
A battery life of about 12 hours
This machine can run pretty much any software with ease and boasts of a very good performance. The SSD provides for fast booting of the machine and great performance with software as well.
Apple MacBook Air may seem pricey. But if you have the cash, get yourself one. And you'll always be a happy person.
Pros
Thin and portable
Solid state storage
A very good battery life
Faster access to data
Thunderbolt 2 port for connecting to the latest devices
Cons
Outdated CPU compared to other rivals; 5th Generation processors
It lacks HD display
It has no touch screen
Also Check: A Guide on Laptops for 10-Year-Old Daughters
4. Asus VivoBook E403SA with Windows 10
If you are looking for a low budget, Windows-based laptop for computer science majors with good performance and awesome features, try Asus VivoBook E403SA. What you get is a stylish, functional, and portable machine that has a superb aluminium finish.
Do not dare to underestimate the processor because it can run Visual Studio and other heavy code editors. This machine can also multitask.
The laptop features:
A 14-inch Screen display
A 1920 x 1080 Screen resolution with Full HD
A 4 GB DDR3 RAM
A 128 GB eMMC Flash storage
A 1.6 GHz Intel Quad-Core processor
An Intel HD Graphics
Wireless connectivity of 802.11ac
This laptop definitely supports the next-generation type of connectivity, the Bluetooth 4.0, USB 2.0 and 3.0 ports and a HDMI.
It comes with a preinstalled Windows 10 Signature edition. The storage capacity coupled with the memory provides for quick booting and incredible performance of various applications.
The processor is efficient in terms of power usage. You can thus work for long hours without worrying about a dying battery.
To avoid the embarrassment of a laptop with a noisy fan causing everyone at the library to keep looking at you, this laptop has a fanless design to control the noise. This design uses a passive way of heat release rather than a fan, and thus less noise.
Pros
Thin, light and portable
Fast boot up
A full sized keyboard
Battery life of up to 14 hours
A multi-gesture touchpad
Cons
Possibility of running out of storage
The eMMC is not a true SSD
Limited RAM makes it difficult to run some virtual machines or app development software
The speakers face upwards
The keyboard has no light
5. Acer Aspire E 15
Here we have a laptop that provides you with epic performance, colourful display, quality build and high-level specs to suit your needs.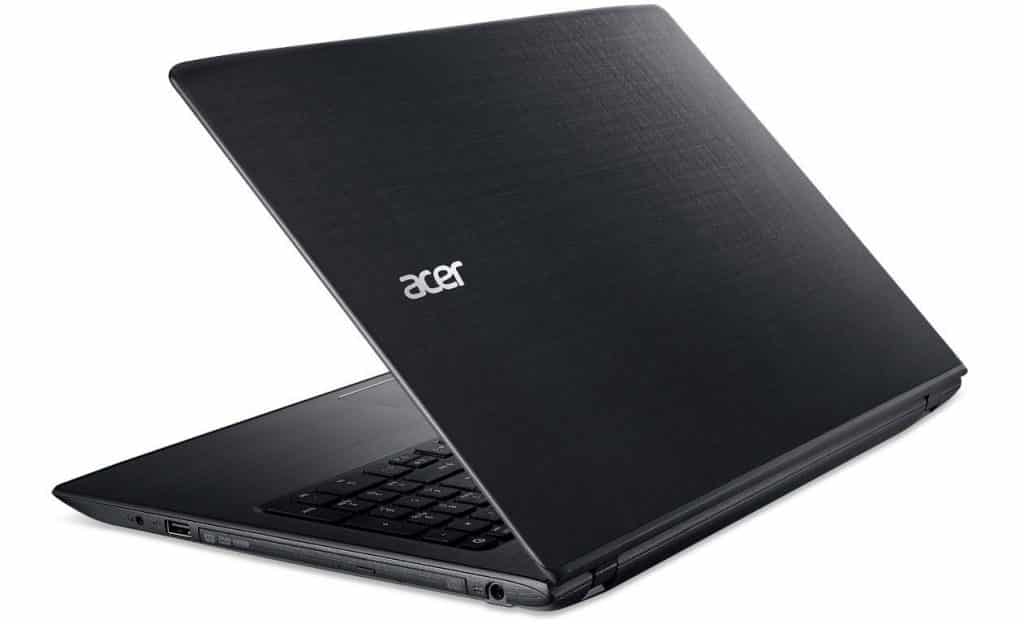 App development software, virtual machines, heavy IDEs, this machine will run them and not break a sweat.
You have the freedom to complete your daily task, thanks to a battery with longer life. It has a Windows 10 Home, which many students, by now, are quite familiar with.
This laptop features:
A 8GB DDR4 memory
A 256 GB Solid State Drive
NVIDIA GeForce
A 2.7 GHz Intel i7 7th generation processor
A 15.6-inch screen with a resolution of 1920 x 1080 pixels
A full HD and 802.11ac wireless type connectivity
This laptop provides you with excellent performance. The NVIDIA GeForce 940MX graphics with 2GB memory is designed to handle any demanding software.
The processor, an Intel Core i7, provides you with more power and coupled with a long battery life, you get to enhance your productivity for long. You simply get more work done easily.
During rest, you have built-in stereo speakers for music. And if you are a heavy gamer, the processor and the graphics have you covered.
Pros
Incredible components at a budget-like price
Speedy SSD allowing fast and smooth boot
Powerful graphics
Long battery life
Cons
It lacks wide viewing angle
The keyboard is slightly uncomfortable
The cooling system is not so well placed
Also Check: Cheap Chromebook Laptops Under 300
A Buyer Guide of the Windows and Mac OS Laptops for Computer Science
Here are a few important things to consider before buying a laptop for computer science.
1. Operating System
The operating system manages your computer's hardware and software. When buying a laptop, you have a choice of three: Windows OS, MAC OS and Chrome OS. Choose an operating system you are comfortable with and suits your needs.
2. Screen size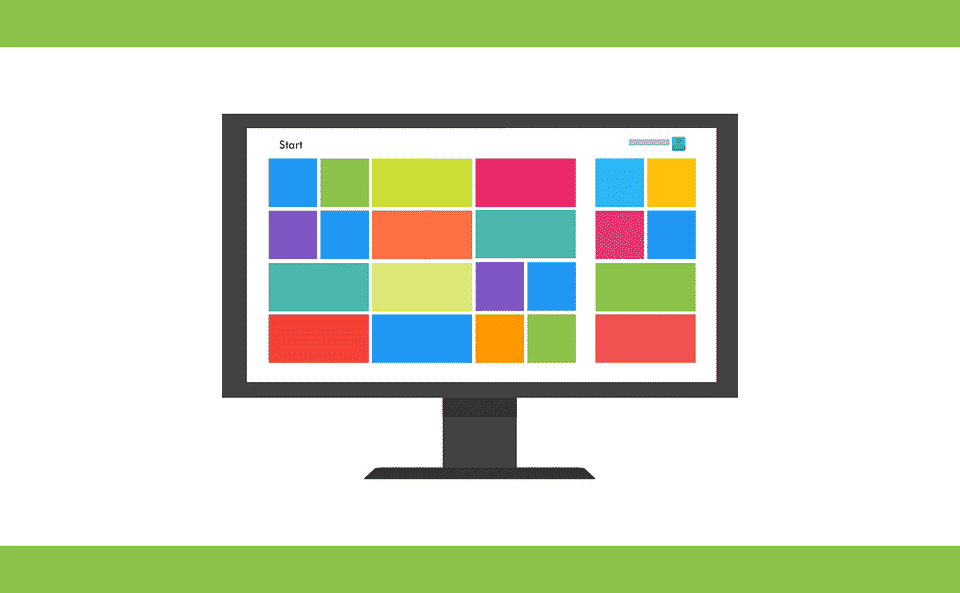 This is usually based on the user's preference. A heavy gamer, for example, would want a larger screen for the ultimate gaming experience. A gaming laptop should have screen of about 17 inches while a laptop for simple office work can have a screen of 15 inches.
3. The Central Processing Unit (CPU)
The Central Processing Unit is a very important factor to put into consideration. It is the most important component of a good laptop to buy. We call it the brain of the machine.
The CPU determines the price of the laptop as well as its capabilities. Simply put, a powerful processer can handle complex tasks with ease. This is because of the number of core in a processer that allows it to multitask as and when required.
4. Random Access Memory (RAM)
RAM is the primary memory of a computer from which the processer easily and quickly accesses instructions to process. A high capacity RAM allows smooth and faster running of applications.
5. Check the Hard Drive
The capacity of the hard drive determines how much information you can store. You can also choose between an optical drive and a solid-state drive depending on your budget and needs.
6. Graphics Card
This component is for image creation. Based on your needs for the laptop, you can choose an appropriate graphics card.