Back in the day, setting fitness goals, tracking progress, and evaluating workout accomplishments wasn't easy. You'd hit a gym, run half a dozen miles, swim for hours, live on a strict diet, and in the end seek medical advice. A nutritionist was the only one who could tell how much calories you burned and how much weight you lost.
Well, not anymore. Technology has changed the way you can track personal movements, set fitness activities, and monitor inactive moments, thanks to the best waterproof fitness tracker.
| Editor's Choice | 2nd Choice | 3rd Choice | 4th Choice |
| --- | --- | --- | --- |
| | | | |
| FitBit Flex 2 | Garmin 010-01225-00 Vivofit Fitness Band | LETSCOM Fitness Tracker Watch | FitBit Charge 2 Waterproof |
| Editor's Rating | Editor's Rating | Editor's Rating | Editor's Rating |
| Check Price | Check Price | Check Price | Check Price |
Waterproof fitness trackers are designed to do three things. First, they monitor your sleeping pattern to determine the quality of your sleep. Second, they help you workout in the swimming pool if you are a swimmer. Lastly, they monitor the quality of your life based on workouts outside the pool.
Overview: The Top 5 Options
For an activity tracker that can account for distance walked, laps swam, and calories burned, we recommend Fitbit Flex. And although it doesn't have an onscreen display, you can use the Fitbit app to get your tracking report.
Garmin 010-01225-00 Vivofit Fitness Band is a good option with a heart rate monitor. It features a customizable screen that you can use to track and manage your fitness goals.
If you are in the market for an activity tracker that can measure how well you sleep, try LETSCOM Fitness Tracker Watch. It has both iOS and Android app, and it can seamlessly connect to Google Health and Apple Fit.
Fitbit Charge 2 features a heart rate monitor that easily responds to every movement you make. Its sleek design and accurate reporting makes it a good option for the money.
If you are looking for a smartwatch that can monitor active and inactive sessions, go for Garmin Vivofit 2. It is the only smart device on this list that comes with a thorough documentation for reference.
Waterproof Fitness Tracker Reviews of 2018
1. FitBit Flex 2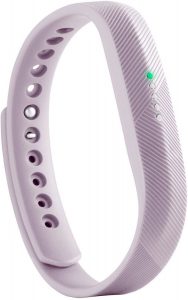 ​Calling FitBit Flex 2 a band for casual athletes is a practical joke.
For a device that's more advanced than the 2013 Flex and Charge 2, there is a lot to admire about this band than to make unsound assumptions.
This smart watch is smaller, sleeker, and more fashionable than Charge 2. So, it puts the company right at the top of the fitness tracking market once again.
Waterproof​
Flex 2 stands out from Fitbit's earlier brands because it is waterproof.
And although that's only up to 50 meters, it's still quite a good depth, to be honest.
What it Tracks
As you swim, Flex 2 tracks the distance, yards, and laps swam. Then it calculates the amount of calories you burn. After calculations, the watch will give you stats estimate through the Flex 2 Android/iOS app.
Flex 2 also monitors cycling, weightlifting sessions, distance walked, steps climbed, and calories burned.
Reminder to Move
With a Reminder to Move feature integrated into function, this device can detect body inactivity and get you moving at least 250 steps before an hour elapses. Also, it has a set of lights that one can customize for text messages and phone calls.
Smaller than Previous Model
If you compare Flex 2 with the very first Flex model, you'll notice that it's 30% smaller. It has a mobile app that works both on Google's Android and on Apple's iOS devices.
Besides being easy to set up and integrate with your smartphone, the apps interface is so simple that it is easy to customize for a personalized interaction.
What You Will Like
It is 100% waterproof.
You can wear it in a pool, an ocean, or in the shower.
It has a water resistance rating of up to 164 feet, and it records an accurate workout data.
Flex 2 is a gold-finished fitness tracker that can be worn as a bangle or a pedant.
Because it easily pops in and out of bands, this activity tracker should be easy to wear and take care of respectively.
 This product is not just thin; it is lightweight, too.
It can be used by kids as well as adults
What You Won't Like
The battery life is very weak. It lasts only three days with charge. So, it is 1.5 days less as opposed to FitBit Charge 2.
This product doesn't have a screen.
It is not a good option for people who don't want to integrate a fitness tracker with a mobile app
2. Garmin 010-01225-00 Vivofit Fitness Band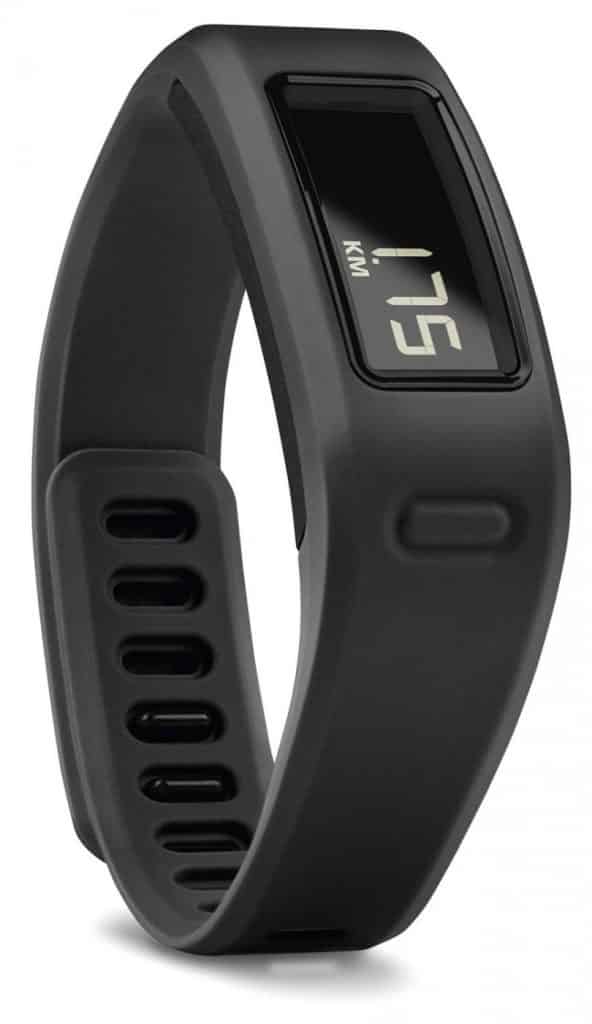 Garmin 010-01225-00 Vivofit Fitness Band may look somewhat bulkier in picture, but it's the most lightweight, activity tracker watch for active and inactive moments.
It's not just designed to display personalized health and fitness information; it also helps to monitor your sleep patterns.
Unlike FitBit Flex 2 fitness tracker waterproof, this device has an easy-to-customize screen, a read screen that you can use to manage activity goals and track your progress.
Because this smart watch gives you the full control to determine what you want to see, Garmin is easy to configure to display only the most crucial information.
Whether you are interested in tracking your progress, reviewing your inactive moments, or workout reminders, this is the best device for you.
Vivofit Fitness Band is always on. In fact, it can stay on for more than 364 days without a battery charge. So, it tracks your progress day and night, even when you are asleep.
It tracks all movements, inactive session, and sleep time. What will be displayed on the screen are your restful hour and the periods of movement.
This Garmin fitness watch is also known to motivate people towards better health, with an attempt to improve daily living. With the help of Vivofit's heart rate monitor, you can get an accurate estimate of your heartbeat when exercising.
Also, it has a zone data function whose work is to give you accurate information on the number of calories burned after a fitness activity.
The ability to tell when it's time to move makes Garmin watch for swimming and running the best fitness tracker waterproof in 2018. In case of prolonged period of inactivity, this device will alert you that it is time to get moving.
For every one hour of inactivity, this cheap fitness tracker will show a red bar moving on the screen. We think this is a great feature because it helps you to stay active all the time.
Remember, we said that the manufacturer gives you full control of this Garmin fitness tracker. So, if you have this on at night, you'll have to adjust your settings to sleep mode. This tells the device that you are going to be and that it should monitor your sleep.
What You Will Like
Of all the fitness smartwatches out there, Garmin Vivofit Fitness band has the best battery life. The battery can last for one year without charge.
It measures swimming laps and tracks your sleeping patterns accurately.
 It has quick loading GPS.
And, the design is elegant.
What You Won't Like
Unless you wear the band tight, you won't get accurate results.
3. LETSCOM Fitness Tracker Watch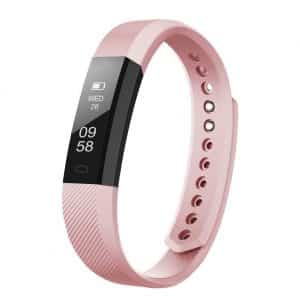 This fitness tracker was designed to help you track distance moved, steps walked, and calories consumed.
With a built-in algorithm that tracks specific movements while filtering out irrelevant and unnecessary wrist motions, LETSCOM fitness tracker watch remains the most accurate fitness tracker than many wearable wristbands on the market.
Until today, this activity tracker watch still holds the position of the most affordable rubber and silicone Bluetooth fitness wristband.
And because it is easy to use, LETSCOM can help you to track your daily activities and motivate you to achieve your every day activity target.
The tracker also comes with an Android and iOS app, and it supports a flexible, easy connection to Apple Fit and Google Health.
What makes LETSCOME Fitness Tracker Unique
LETSCOM is  100% waterproof. You can wear it when doing dishes, washing clothes, taking a shower, or preparing meals.
And it does not matter how long you spend in water-related activities, because this fitness tracker will never go off no matter the amount of water that spills on it.
The ability to monitor your silent moment, especially when you sleep, makes this wristband useful for tracking your sleep.
Apparently, this tracker is able to measure how long you sleep, and it can monitor your every day sleeping patterns.
And whether you are a heavy sleeper or a morning person, LETSCOM lets you set an alarm, which silently vibrates to wake you up every morning.
Although its battery's life doesn't last long like Garmin's Fitness Tracker, the lifespan after a single charge is still favorable. In fact, LETSCOME battery can last up to 10 days before the next charge.
Also, this fitness tracker has a USB port that you can use for charge. And, it takes only an hour for a complete charge.
The Android and iOS apps of this fitness tracker have an anti-lost feature that helps you to locate the tracker in the event that you misplaced it.
The app has Bluetooth connection settings that you can use to command the tracker to vibrate. This vibration makes the tracker easy to locate.
What You Will Like
LETSCOME can monitor your heart rate during your active moments as well as when you sleep.
Its battery lifespan is five to ten days. So, , it competes well with FitBit Flex 2 in terms of the battery duration.
Also, it lets you know how much calories you are eating; this helps you to regulate your calorie intake.
What You Won't Like
The anti-lost app can only track wristbands within a distance of 10m or less.
While the lifespan of the battery is good, we wish it could have been more.
4. FitBit Charge 2 Heart Rate Fitness Wristband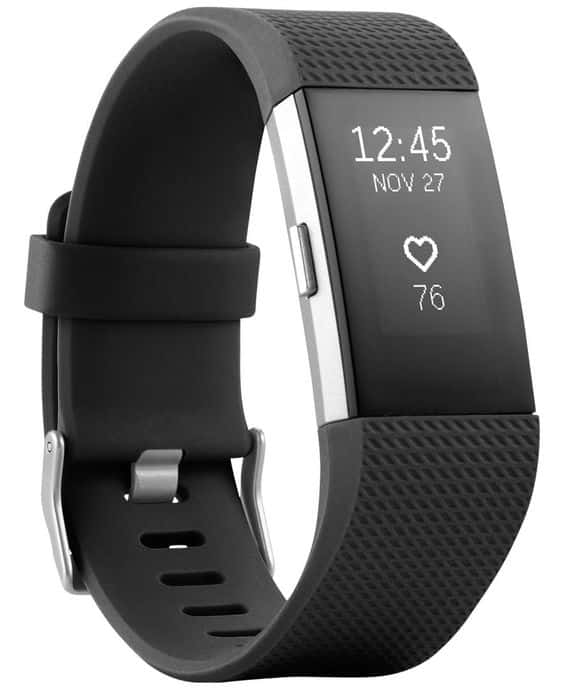 FitBit might have been on the receiving end of many people's disapproval for its 2013 Flex wristbands.
But it has since quenched the criticism by designing a fitness tracker that people want to wear day and night, the FitBit Charge 2 Heart Rate Fitness Wristband.
This tracker is light, colorful, and slim. And, it has an OLED screen that responds to wrist movement and display stats for your daily activities.
Whether you want to know the miles you have walked, the number of steps you have taken, or the amount of calories you have burned for a day, FitBit Charge 2 Heart Rate Fitness Wristwatch is for you.
FitBit Charge 2 Swimming Watch Reviews
You are probably among the crusaders who complained about the battery life of 2013 FitBit fitness tracker
But FitBit Charge 2 Waterproof Heart Rate Wristband is quite different because it has a battery life of not less than 5 days. It might last for about eight days after charging it once, but five days is an almost accurate estimate.
By the way, this activity tracker's Android and iOS app is very easy to use.
The interface is simple and quite standard, which means the interface is pretty more or less the same as for other fitness trackers in the FitBit wristband series.
And besides being clear and easy to use, this interface isn't too overwhelming with data, because it gives you only what's necessary.
This device's notification system may not be as robust as that of Flex 2, but it still gives you some important data. You get at least three call alerts, calendar notifications, and text popup.
Including the reminder to move in this app was a great move. Moreover, this smart wristband can detect silent moments and notify you to get moving.
The ability to monitor your sleep and display useful results makes Alta the best fitness tracker for sleep. Overall, it is a helpful device for tracking sleep, wake, and restlessness.
What You Will Like
 It is better than Apple Watch because of its time to move feature.
The time to move reminder is easy to customize.
You can set it to work at a particular time or pause it altogether.
It is lightweight.
The device has a sleek design.
What You Won't Like
The notification system is not up to par. Worse, it cuts off longer texts.
The sleep charts are not refined; so do not expect this activity tracker to show estimates of deep sleep and light sleep.
 We think it is rather too pricey.
FitBit Charge 2 returns unreliable statistics
It does not have a GPS
5. Garmin Vivofit 2 Activity Tracker
Garmin may not be on the same level of competition with FitBit, but the company has designed a high quality activity tracker that can give you the best bang for your buck.
Known to be an accurate fitness wristband that monitors both motion and inactive sessions, Vivofit 2 activity Tracker is a perfect piece that you can use to plan, save, and share your progress.
What's even interesting is that the package not only includes a USBV ANT Stick, but also a documentation that you can use for reference.
Whether you want to keep an eye on the calories that you consume per day or you just want a product that can help you keep your body in motion during the day, Vivofit 2 Activity Tracker is for you.
What Makes Garmin Vivofit 2 Activity Tracker Unique
Vivofit 2 Activity Tracker is the one activity tracker that always keeps you in motion. It doesn't leave a room for you to be dormant, and certainly no time for a sedentary living.
With its Time to Move Functionality, this fitness activity tracker can and will keep you moving after every hour of inactivity.
How Garmin built the battery life of its fitness trackers to last for long is something that often mystifies its competitors.
As with 010-01225-00 Vivofit Fitness Band, this one, too, has a battery life of 365 days. You can use this activity tracker without charging for one full year. If that isn't a good thing, then I do not know what it is.
Vivofit 2 Fitness Tracker is like a small, electrical human. It helps you set unique, personalized activity goals, a task often attributed to humans only.
With a personalized daily goal, you are able to not only work towards accomplishing a proper plan but also stay motivated throughout the day.
And not to forget, this activity tracker is 100% waterproof. Like FitBit that it is waterproof for up to 50 meters, this fitness and activity tracker does follow the same pattern.
As such, it makes a good fitness tracker for swimming. Also, you do not have to remove it from your wrist when you take a shower.
Overall, Vivofit 2 Fitness Tracker is known as the only wristband that you will ever want to wear day and night.
What You Will Like
It has a long battery life that required no recharge until after a year.
It can pair with a HRM.
It is waterproof for up to 50 meters.
This device has a locking strap.
What You Won't Like
It is not suitable for those who love activity trackers with vibrating alerts.
You cannot customize reminders.
It doesn't come with a manual alarm.
How to Choose the Right Waterproof Fitness Tracker: A Buyer's Guide
The schedule constraints brought about by jobs and other activities mean that it is hard to find time for gym. Wearable and handheld water resistant fitness trackers take a bit of frustration out of fitness regime.
Rather than try to remember every exercise that you want to tackle, handheld devices give you all that information. These trackers are useful for neophytes and experienced fitness gurus alike.
How often do you interact with water when working out? Some trackers are designed to be splash proof. Others are able to withstand a shower whether indoor or outdoor.
But if you will be wearing your tracker in the pool, it's important that it is completely waterproof. Here are the most important points to consider when buying a water resistant fitness tracker.
Consider the right design
While most waterproof activity pedometers are designed to wrap around your wrist, some are made in a way that they clip to your clothing and are actually more comfortable to wear.
Some models are even wearable on clips or can be carried in pockets. Some pack a host of stylish accessories that enable you to wear your tracker around your neck the same way you do a pendant.
In the past, buyers had to make a choice about the right color band. But, today, many smart analogue watches are offering even more choices. The trend is that of fitness tracking smarts squeezed into watches.
Display
The more advanced water resistant activity trackers show their data using numbers, symbols, and words on a display that is watch-face like. For others, this info is shared in simple LED light display or even through an app.
By synchronizing the data onto your computer or smartphone, the tracker's app not only archives this information, but it also helps you analyze and interpret it.
Before deciding on which waterproof fitness watch to buy, make sure to preview the companion app of the tracker on Google Play, App Store, or on manufacturer's website. This is the best way to ensure that the app will work as advertised.
What are you looking to track?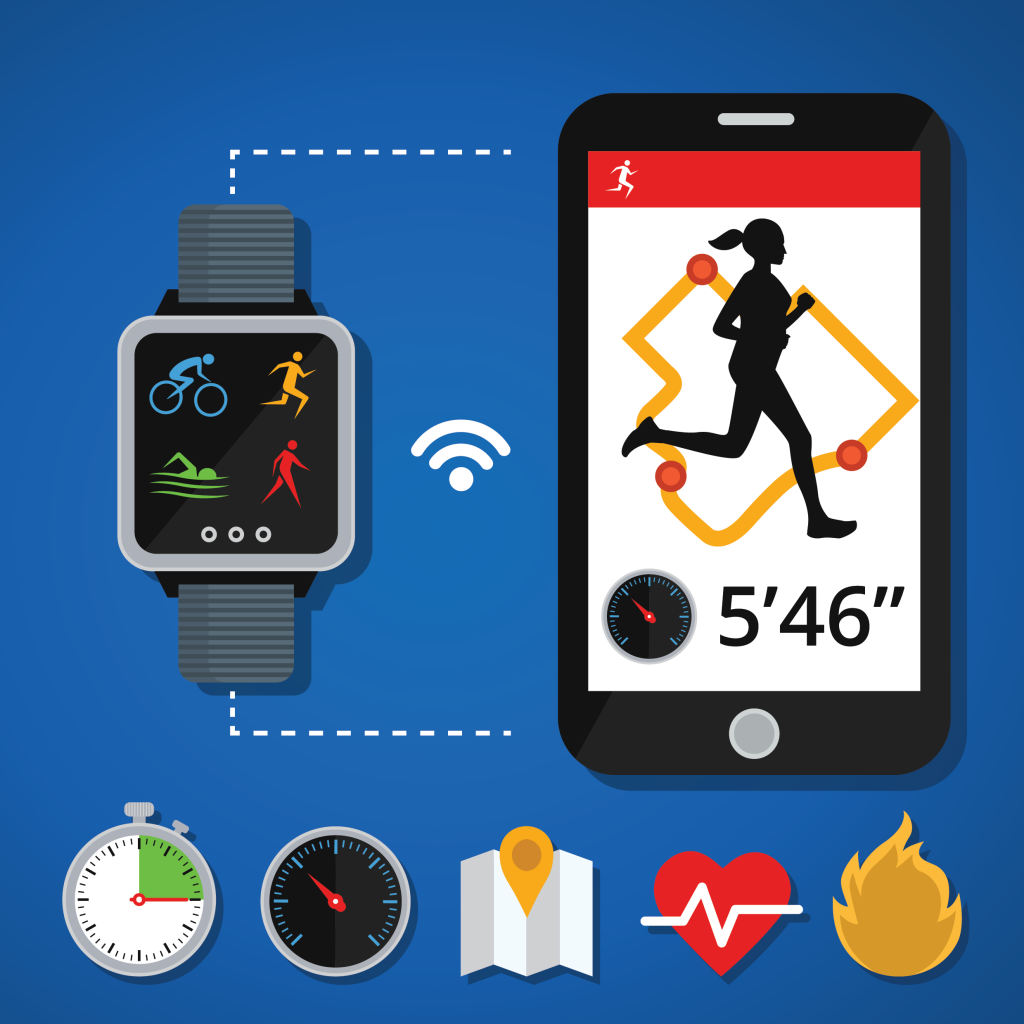 Majority of fitness trackers keep track of distance, steps, activity, and calories. The more advanced trackers will also feature a global positioning system (GPS) for more accurate measurement of your distance.
If you want to track walking, running or hiking, any fitness tracker brand will do. But if your activity involves cycling, walking on treadmills, walking on elliptical, mountain climbing or swimming, you will need a specialized tracker.
Make sure that the tracker you choose at the end of the day can capture and record data for the precise sport or activity you do.
Nowadays, a common feature in fitness trackers waterproof is sleep tracking. Sleep plays a crucial role in proper health throughout your life. When it comes to sleep, fitness trackers vary a lot in terms of the kind of information they provide.
This ranges from just monitoring full amount of time to giving you details on the various stages of sleep like deep, light, and REM sleep. Several devices are also outfitted with silent alarms that only vibrate on your wrist and wake you up so that you do not disturb your partner.
What is your budget?
Activity trackers vary a lot in price. Today's latest generation of waterproof activity, fitness, and sleep trackers pack a wide range of exciting features at very reasonable prices.
Again, with more and more companies releasing second and third generation waterproof trackers, you can find their earlier generations for a steal.
And while these trackers may not necessarily track everything, with a bit of shopping, you could just land a tracker that fits your needs at a bargain. But if you want fully featured fitness trackers, be ready to pay a bit more for them.
Accuracy of a Water Resistant Fitness Tracker
Fitness trackers are not completely flawless. They use algorithms and sensors to track stairs climbed, footsteps, punches thrown, and hours slept. That obviously means that there is a certain degree of imprecision.
For those looking for hard data, going for a function-specific device might be the key. Generally, heart rate monitors that you can strap on your chest, and which transmit information to your activity tracker, tend to be more precise compared to in-device sensors that you apply to your wrist.
Read the Reviews
There is no better way to get the look and feel of a fitness tracker than to hear from people who have bought and used it. Many online stores now allow users to share their experiences of the devices they have bought.
Reading reviews can let you in on what to expect when you buy the device in question. Through reviews, you can also get to know of the flaws of the tracker that you might otherwise have never thought of.
You may also want to ask your coworkers, friends, and family members who might have bought fitness trackers for advice on which tracker to buy.
Compatible Lifestyle
Before setting out to buy the best waterproof fitness tracker, it's important to stop for a moment and critically analyze your daily lifestyle.
Are you a sedentary person who has long commute? Or are you the active individual who is just interested in improving their athleticism?
Understanding your lifestyle is important because it will help narrow down your search based on your overall needs for a fitness tracker.
If you are the sort of person who accesses email on a daily basis, you want to buy a fitness tracker that gives you email notifications.
May be you work on shifts and want something that will be able to track your patterns of sleeping?
The bottom line is that you need to figure out what's most important to you and then find a fitness tracker that suits your lifestyle.
The App
The App can be thought of as the real engine driving a best activity tracker. It is tasked with analyzing your data, producing result graphs, goals, challenges and social media notifications.
You need to check the app that corresponds to your devices and ensure you can easily interpret it and that it presents the information in way that motivating and interesting. It should also be able to present the data in a detailed breakdown complete with graphs, charts, and comparisons.
Also, check to be certain that the app provides challenges and sets goals as well as offers incentives to motivate you. Another important thing is to ensure that the app also offers social media functionality to enable you fight it out with your pals (although this isn't common, per se).
You will also need to ensure that the fitness tracker's app will work well with your mobile phone. But this can rarely be a problem today given that most trackers today support both Android and iOS.
Battery Life
Depending on how sophisticated a device is, battery life can range anywhere from one day to more than 6 months.
If you go for a tracker with an armada of sensors and a color touch screen, you should expect to charge it more often compared to a tracker with a simple band and a couple of LED lights on the face of it.
You also need to note that you can't recharge all trackers, as not all of them are rechargeable. Some are powered by coin cell batteries used in calculators and cameras.