What's the Best Chromebooks Under 300 in 2021?
Chromebooks are the modern-day computers that feature the best of Google built-in.
From high level security to full access to Google Play Store, these fresh-looking laptops have everything you need for the wow factor and outstanding user experience.
There is a Chromebook that's right just for you; at least Google confirms it.
And with the entire Play Store available with a click of a button, you get access to the apps you love.
But Chromebooks are known to be quite pricey, scooping almost a thousand dollars for a single purchase.
Still, though, you can get the best Chromebook under 300 if you are pressed on your budget.
The goal of this guide is to let you in on some of the best cheap Chromebooks that startup fast, work smoothly, and feel new all the time.
The best budget Chromebooks still offer rich functionalities just like the most expensive ones do. So if you're really on a TIGHT budget, the recommendations below should be fine for you.
You May Also Like: Best Laptops for 10 Year Old Children
Best Cheap Chromebook Reviews
| Editor's Choice | 2nd Best | 3rd Best | 4th Best |
| --- | --- | --- | --- |
| | | | |
| Acer Chromebook R 11 Compatible | Acer Chromebook 14 | Asus Chromebook 10.1 Touch Flip | ASUS Chromebook C202SA-YS02 |
| Our Ratings | Our Ratings | Our Ratings | Our Ratings |
| | | | |
Best Chromebook for Under 300
1. Acer Chromebook R 11 Compatible
Acer Chromebook R 11 Compatible runs on a 64 bit architecture operating system, guarantees up to 10-hour battery life, and its internet speed is definitely promising.
It comes with 32GB internal storage, and it supports up to 256GB SD card perfectly. While it supports WiFi internet, it cannot connect to mobile data network.
Good Performance
Acer Chromebook R11 Compatible runs pretty smooth, switching between tasks quickly and with ease, thanks to the Celeron N3150 processor and the 4GB RAM.
Performance begins to lag, though, when you have a couple of dozen tabs on.
But if you stay under the 4GB RAM cap with a few tabs open, there might be a little bit of a lag, yet not exactly so.
Local Storage Ok
Inside this machine is a 32GB of storage, but you won't need all this anyway because, most of the time, you won't be storing tons of files locally.
Given that you get 100GB of free storage when purchasing this Chromebook, that's really more than enough to keep things nicely in the cloud.
A Little Disappointing Display
The 11.6-inch display has a 1,366×768-pixel resolution, quite a low resolution that disappoints people that love bright screens.
Unlike Toshiba Chromebook with an average brightness of 378 nits, priced similarly, the Acer Chromebook R11 is a little dimmer, scoring an average brightness of 224 nits.
2. Acer Chromebook 14
Acer Chromebook 14 may not have the best of quality display, but it is reasonably priced for people on a small budget.
Unlike hundreds of plastic competitors, this Chromebook is made of sturdy aluminum body, which makes it both light and durable.
Talking of display, the quality isn't that bad, to be frank. The brightness is at a good maximum, and the viewing angle (170 degrees) makes it easily readable from all sides.
Good Design, a Heavy Product
The light-grey metallic chassis, an integrated keyboard tray, and stylish sharp rounded corners make Acer Chromebook 14 look a little pricier than it really is.
It appears to me that the whole point of coating is to create a device that's sturdy and can last for the long haul.
But as good as this Chromebook is, really, Acer fails to create a good tradeoff between design and weight.
Weighing about 1.7Kg, you'll feel a bit of its weight in your laptop backpack.
Performance
Acer Chromebook 14 features Intel Celeron N3060 processor, and has a running speed between 1.6GHz and 2.48GHz per second.
In this day and age, though, you'd expect the best Chromebook under 300 to have a higher RAM value. But Chromebook 14 can't set any speed record with its 2GB RAM.
It would have been better of the RAM were 4Gb, because the 2GB doesn't come anywhere close to efficient for media-heavy task.
Heavy users can get comparatively smooth performance by browsing a few tabs, or spend a little more for an expensive Intel Core i3 Windows laptop.
System Display
Acer seems to be struggling with display issues, because the Chromebook 14 display really could use some help.
For people that don't mind so much about brightness, this is a good Chromebook under $300.
However, for people that want more color accuracy, a 1080p HD resolution, and high-level brightness, this doesn't come close to a good fit.
I am not saying this machine has a terrible viewing experience. It is totally an okay Chromebook for occasional use.
But when you combine office work with general web browsing, seeing what you are doing can be a little bit tedious.
Buy on Amazon
Also Read: The Best Laptop Computers for Writing Articles
Best Chromebook Under 250
3.Asus Chromebook 10.1 Touch Flip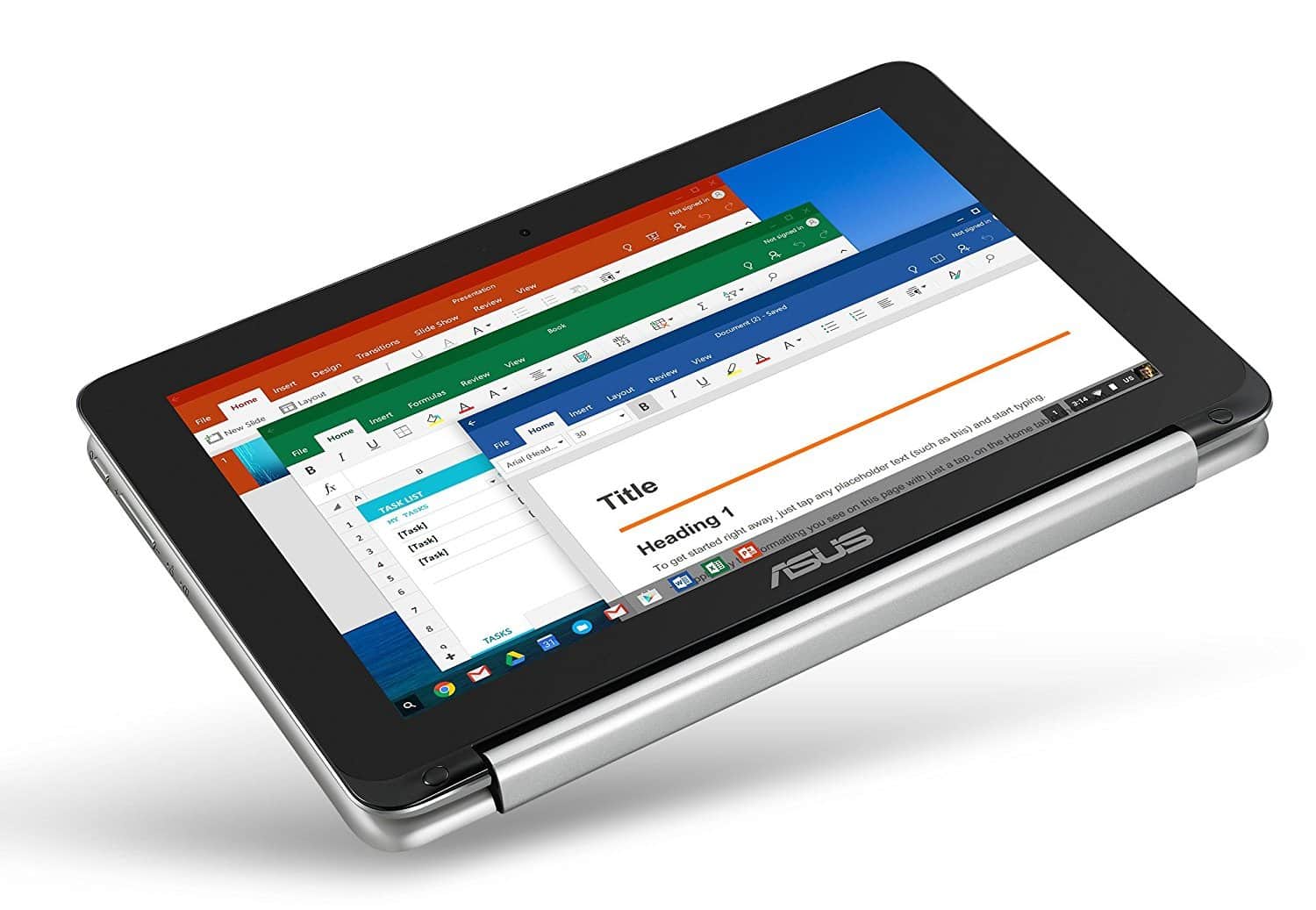 You won't find the best Chromebook under 250 that's anything close to Asus Chromebook 10.1 Touch Flip.
Featuring a sleek silver-coated body and weighing only a few pounds, the 10.1 Touch Flip is both lightweight and well thought out in terms of design.
Also, it features an accurate and responsive touchscreen display, making it look and feel a lot more like a smartphone.
A More Lightweight Chromebook
Asus creates a solid balance between weight and design. It features an all-aluminum metal chassis construction for a sturdy, solid build without adding bulk to the flip.
In fact, it weighs less than two pounds, making it the most lightweight Chromebook for under 250 on our list.
Besides the solid build, you get a HDMI port, SD card reader, a jack for your best pair of headphones, and two USB ports (both USB 3.1 and 2.0), making this the only Chromebook with USB Type C ports.
Almost Close to a Notebook
The 10.1-inch Flip isn't just lightweight, it is also compact; that's almost the size of a Notebook.
Because of the small size, the keyboard is tiny, too.
It may not be a perfect laptop for people that type fast, but it makes a good option for composing small notes like tweets, emails, Google+ posts, and Facebook statuses.
It is also fast typists who don't mind a low score on their typing speed.
Storage
You get only 16GB eMMC.
But since you won't be storing heavy files locally, the small storage space isn't really a deal breaker.
Moreover, this Chromebook comes with 100GB of Google Drive Storage on offer, pretty much more than enough for people that don't have a lot of storage needs.
And even if this space is not enough, there is a microSD slot that supports 100GB+ of expandable storage.
Battery Life
Asus Chromebook 10.1-inch Touch Flip's battery life isn't similar to Google Chromebook Pixel's, but it is somewhere close.
In fact, it can last 8 hours 30 minutes normal use, about 4 hours less Google Pixel's battery, but impressive enough to work for long before the next charge.
4. ASUS Chromebook C202SA-YS02
Asus Chromebook C202SA-YS02 is the best cheap Chromebook featuring a water resistant design, a 16GB flash storage, a Celeron processor, and a 4GB RAM.
This Chromebook has a dark blue and dual-tone silver color finish, making a stylish option for most people.
Because of the water resistant design, you can use this laptop in the kitchen or in the dining room without worrying about accidental water spillage.
Design
When it comes to size, Asus Chromebook C202SA is slightly bigger than the Asus Chromebook 10.1-inch Flip.
In terms of weight, it weighs about 2.2 pounds, that's 0.2 pounds more than the Chromebook Flip.
The larger screen is built that way to give you a larger screen area, making it a good option for a majority of artists.
Performance
Affordability is a significant aspect in this guide, and if you can find the best Chromebook under $250 that promises good performance, you feel more like you have hit the jackpot.
Chromebook C202SA has a great tradeoff between price and performance, so there is no doubt that it's going to be popular in future.
This laptop features an Intel Dual Celeron N3060 processor with Intel HD Graphics, performing at a speed of 1.6 GHz per second.
With this kind of processing speed, you expect the performance to be smooth. The system boots easily and fast, often in less than 10 seconds.
Performance remains consistent throughout use, even with media-heavy tabs on. At most, you can run up to ten tabs without experiencing a lag in performance.
Battery Life
The battery life of Asus Chromebook C202SA-YS02 is downright amazing.
In fact, on normal use, it can last 10 hours 30 minutes without charge.
If you are handling a lot of media-heavy files, the run time may be slightly lower, but then again the battery should last you longer even in those circumstances.
Hardware Options
This Chromebook doesn't have CD or DVD drive. But it comes with two USB 3.0 ports, an SD card reader, as well as an HDMI port.
It is well in line with the latest WiFi network standards; it supports the dual-band 802.11 ac WiFi for fast and reliable internet connection.
Also Read: Laptops for Students Taking Computer Science Course
Best Chromebook Under 200
5. Samsung 11.6-inch Chromebook 3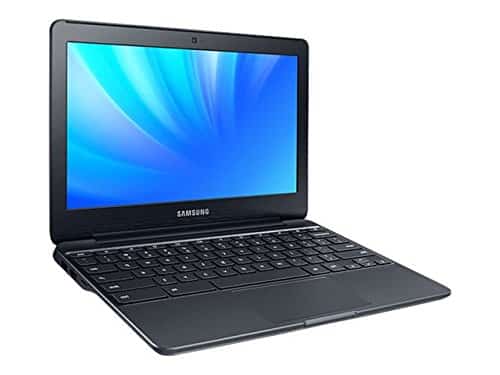 For the lovers of all-black chassis and matte black covers, Samsung 11.6-inch 3 is the best Chromebook under 200 to not just keep an eye on.
Although the 16GB flash memory can and will fill up quickly, it has a Micro SD card slot that lets you expand the storage capacity.
Besides the simple and secure Chrome Operating System, this laptop has a split-resistant keyboard for protection against accidental damages.
Of course, you could spend your $200 bucks on a Windows machine, but a Samsung 11.6-inch Chromebook 3 for the same price is an awesome grab-and-go option.
Because this Chromebook has a longer battery life, it is a great laptop for students as well as kids who need laptops for school and entertainment.
Amazing Performance
Samsung 11.6-inch 3 runs on Intel Celeron N3060 processor, which has a data processing speed of 1.6GHz per second.
It boots up within 5 seconds, setting a good record that's far much beyond Asus Chromebook C202SA-YS02.
Thanks to the  4GB RAM, this laptop can handle multiple web applications, include media-heavy files, smoothly.
Camera, Ports and Storage Option
This Chromebook features a 720 pixel HD camera, a good option for people that love to take photos or make Skype calls.
At 720p, you do not expect the images to be clear, though. It is still good enough yet.
On the right side of this laptop, there is one USB 3.0 port, one jack for microphone, and a jack for audio.
On the left side, you will see a full-size HDMI port, a microSD card slot for memory expansion, and a USB 2.0 port.
In terms of storage, all you get is a 16 GB eMMC flash storage, good enough for storing files locally. Of the 16GB space, only 11 is available for use. Storage should not be a problem, as you can expand it using the microSD card slot.