The Best Open Back Headphones for Gaming
I can't remember how many times I have belittled the best open back headphones for gaming.
Back in the day, these headsets appeared valueless to me because many of them lack the noise-cancelling feature.
But, after testing them on several gaming sessions, I found them to be quite useful for players who don't mind some external noise.
Unlike closed back headphones, these over-the-ear sets may not be the best choice for every gaming aficionado.
But even then, they still make the perfect fit for someone who loves to hear the game they play, their own voice, as well as sound in the surrounding.
I have tested close to a dozen open back gaming headsets so far. And I couldn't be more thrilled to share my findings with you.
What's more, these ones are feature-packed. From adjustable headbands and cool airflow to over-ear cushions and lightweight design, these options have all the specs necessary for an amazing gaming experience.
Best Open Back Headphones for Gaming – 2019 Reviews
Check out the following list for some of the top rated gaming headsets with open back design.
1. Sennheiser GAME ONE Gaming Headset
Sennheiser GAME ONE Gaming Headset falls in the sweet spot not just for dozens of positive responses, but also because of durability, design, and sound quality.
Besides the interchangeable cables that boost compatibility with multiple platforms like Mac devices and personal computers, this headset has transducers that enhance sound quality and increase tone accuracy.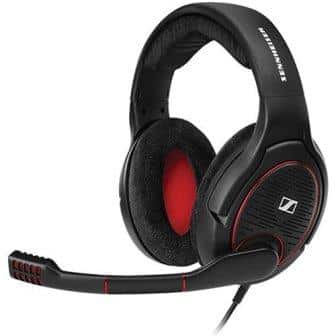 The pads are soft and easy on the ears, and the set is lightweight enough to stay on your head for long hours.
Design
In terms of the overall design, Sennheiser GAME ONE is so sturdy that it won't break down in the event of an accidental fall.
Although the plastic casing that covers the flexible headband looks cheap, it's still important because it makes the headphones strong enough to stand a drop or two.
Unfortunately, the hinges are more susceptible than any other part of this set, and therefore they may not last long like the rest of the build quality.
Noise Isolation
These headphones don't block external noise, and if they do, then not nearly as much as you'd expect. They also leak out sound a lot.
The inability to block external noise and prevent sound leaks is a thing for almost all open back headphones anyway.
Microphone
Sennheiser GAME ONE features a noise-cancelling microphone, which is quite useful in answering phone calls in case someone calls you when you are busy playing your favorite game.
The noise-isolation is quite impressive, because the set can separate speech from background noise, even in very loud environments.
2. Sennheiser PC 360 Special Edition Gaming Headset
Someone recommended Sennheiser PC 360 Special Edition Headset for newbie players.
But, it's also a good choice for those who have been in the gaming scene for as long as they can remember.
Unlike Sennheiser GAME ONE, the PC 360 Special Edition features a very low pricing point.
However, they still pack the punch for cheap, especially when it comes to sound quality.
Sound Quality
Sennheiser is a reputable brand, so the sound quality of these headsets should be up to par. That already sounds obvious.
And while they have transducers that boost sound clarity for clear vocals, gaming, as well as movie watching, they aren't quite the noise-cancelling headsets you'd buy to take home.
I do love the sound clarity, though, especially when I am gaming alone and nobody is around to be disrupted by the leaking sound.
Is the Comfort Even Cool?
Cool is a craze word for every headphone brand out there. I feel like this is some kind of hype to lure users into throwing money to Sennheiser.
But, how cool is cool when questioning the comfort of PC360 Special Gaming Headset? The secret is on the open back design.
It's built in such a way that it lets in smooth air for a natural sound experience.
Noise Cancelling Microphone
The headphones themselves aren't noise cancelling, so they won't be best for noisy environments.
At least, you get a noise-cancelling microphone that helps with crystal-clear communication, especially in areas with extreme noise.
3. Audio Technica ATH-AD700X Audiophile Headphones
Audio Technica ATH-AD700X Audiophile Headphones are often misjudged for their simple look.
But the set packs the punch in terms of sound quality in a way many options out there never can.
It doesn't take more than 2 seconds to notice that the microphone is missing.
In my opinion, it is not even necessary, at least not in the context of gaming.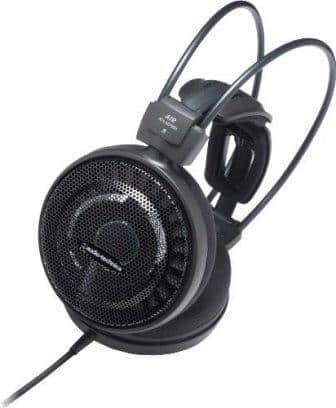 3D Wing Support
I haven't seen any other headphone brand that features a self-adjusting 3D wing support so far.
This uniqueness sets Audio Technica apart both in terms of creativity and the comfort of a user.
With the 3D wing support alone, you get a custom headset fit for the most comfortable music listening.
The Natural Sensation
The cushioning on the ear cups is well thought out, so they should feel natural on your ears.
Because they are lightweight, you can have them on for hours and not even feel their weight. But they might feel a little uncomfortable if you have them on for an extended period.
Where it fails
Although the 53 mm drivers, the bobbing-wound CCAW voice coils, and the lightweight honeycomb casing all contribute to the uniqueness and sound quality of this pair, the cable doesn't detach from the ear cups and sometimes there is a rattling sound that may make some users uncomfortable.
4. ASTRO Gaming A40 TR Headset
Customizing the best open back headphones for gaming is something I have never thought about to be frank.
I have always known that it's impossible to do so, and it is.
But, ASTRO Gaming hits the jackpot in designing the most customizable gaming headset with the magnetic speaker tag system.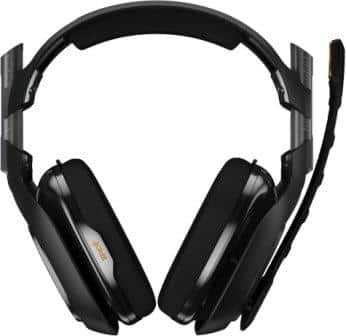 Mod Kit Ready System
There is still more to ASTRO Gaming A40 Headset than just the customizability.
The most outstanding feature is the Mod Kit Ready System, which allows you to swap between open back and closed back headset.
Thanks to the system, you can choose to block external noise if you want to by simply swapping the mod kit components.
Unfortunately, these components don't come together with the headphone, which means an extra bill to your budget.
Unless it's necessary to customize this headset, I don't think you should spend extra cash on the Mod Kit Ready components. But if you want full control, and you have extra bucks to spend, you shouldn't hesitate.
For Computers and Game Consoles
What I love about these headphones is that they support multiple devices. So whether you want to play on PC or Mac or you are a diehard of PS4 and Xbox One, these will work just fine and give you the best listening experience overall.
5. XIBERIA USB Headset with Microphone
Someone on a tight budget won't pay the earth for something like Beats by Drake.
But, at least they can get inexpensive headsets that pack the punch for cheap.
If you feel like you are stuck between a strict budget and an open back headphone, I would strongly recommend XIBERIA USB Headset with Microphone.
What you get for less than $100 include high quality open back ear cups, memory foam ear pads, an attachment microphone, and a suspension style headband.
Quality Sound for Cheap
This might sound like an insult to high-end competition, but XIBERIA has done gamers good by bringing to the market a full range set with a resonating bass for an amazing listening experience.
Thanks to the premium sound effect, including clear audio, strong bass, and 3D audio configuration, you get the crystal-clear sound required for a smooth gaming experience.
Easy to Control
I would probably fall off a cliff for XIBERA USB headsets because they are quite convenient and easy to use.
With control options like rotary volume adjuster, LED toggle control, and microphone mute, you get full control over these headphones, so you can make your gaming session as interesting as possible.