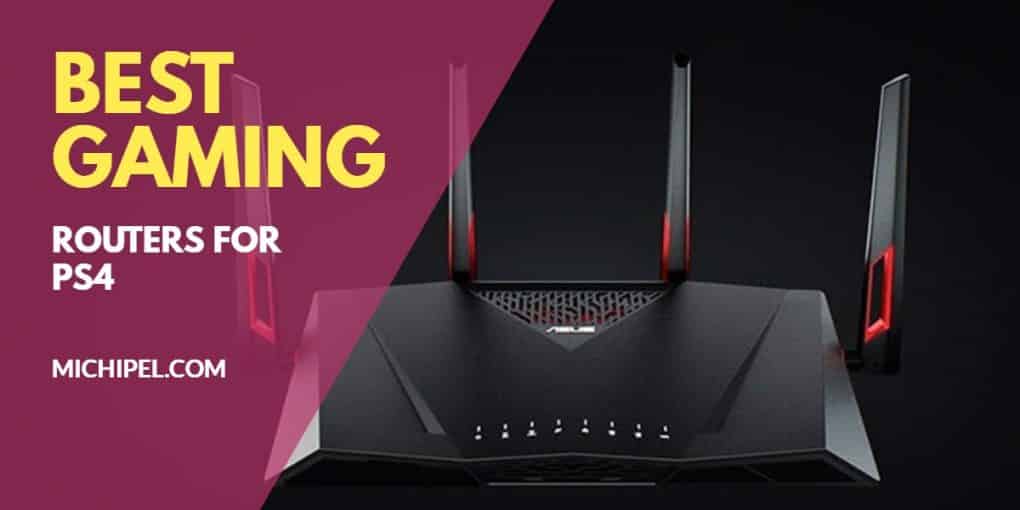 The Best Gaming Routers for PS4 in 2020
Are you looking for the best gaming routers for PS4? This guide is for you.
But before we get to the reviews section, here's something we need you to understand:
PlayStation 4 is twice as popular as Microsoft's game console. And, it's this generation's best-selling console with a big library of games.
From Alien: Isolation and Destiny 2 to Star Wars Battlefront and Overwatch, there are one million and one games on the system for just about anyone.
You might be a fan of Final Fantasy 15. Or, maybe you're a die hard of Until Dawn.
Or, maybe you've a demon inside of you that pushes you to play Rise of the Tomb Raider all the time.
But without the best gaming routers compatible with PS4, you won't have an exceptional gaming experience.
| | | | | |
| --- | --- | --- | --- | --- |
| | | ASUS RT-AC88U Wireless Router | | |
| | | NETGEAR Nighthawk X6 AC3200 WiFi Router | | |
| | | TP-Link AC1900 Long Range Router | | |
| | | NETGEAR AC5300 Nighthawk X8 Wi-Fi Router | | |
| | | TP-Link Archer C7 Wireless Router | | |
Best Gaming Router for PS4: Reviews in 2020
A top-rated router for gaming on PS4 ensures that you get maximum internet speeds, no matter how many devices are connected on your home's internet network.
Here's a few recommendations to consider.
1. ASUS RT-AC88U AC3100
TheRT-AC88U is a definite game changer in the Asus router series, a new kid on the block that's a true dual band router for PS4 game consoles.
Featuring eight Gigabit LAN ports and support for Dual Wireless Area Network, this has to be the first router for home use the company has ever had to offer.
The device offers a new sort of control that we haven't seen with other Asus brands. Now you can convert one LAN port into a WAN port. And with the support for port aggregation, you can combine two LAN ports into one superfast connection.
The RT-AC88U is Asus's best router for PS4 games that competes head to head with NETGEAR's Nighthawk X4S. The 4 x 4 device utilizes the power of Broadcom SoC in addition to NitroQAM technology.
For a tech savvy, it should take less than 10 minutes to get this router up and running. And for the not-so-techie persons, about half an hour should be enough to get through the setup. That's because it has an easy-to-use and interactive interface that makes the setup process easy.
The RT-AC88U features two types of router configuration: an intuitive wizard and a manual configuration. Using the wizard is easier as opposed to configuring the router manually.
The intuitive wizard checks internet connection and then dynamically sets your Static UIP, Dynamic IP, or DCHP, depending on the connection type you choose. You'll then name each SSID for each band and generate a network encryption key for each band.
And that's it; you are done and ready to start using your router.
The integration of Smart Connect in this router is – honestly – a smart move. The technology doesn't just combine the bands into a single SSID. It helps to connect each internet-enabled device in your home according to their compatibility.
Without the MU-MIMO technology, it would be impossible for this router to handle Wi-Fi bandwidth efficiently. The Multi-User Multiple Input Multiple Output sends multiple simultaneous transmission to different devices at the same time. This makes it possible for each device to connect at an appropriate speed.
2. NETGEAR Nighthawk X6 AC3200
If you are a heavy PS4 gamer, you'll love this router for two reasons.
First, it is the only tri band router on the list with an accurate performance load balancer.
Second, it can manage a number of wireless devices on a single network.
Nighthawk X6 features three bands: two 5 GHz band and a 2.4 GHz band. The two 5 GHz are the performance load balancers. With your ps4 gaming console, tablet, and mobile phone connected to the same router in your home, the performance of your internet is highly likely to suffer.
To prevent this kind of saturation, Nighthawk X6 configures its performance load balancers on different channels. After the automatic configuration, any device can connect to the 5 GHz band and work well. The performance load balancers ensure that your router's performance doesn't suffer.
Given that the setup process is over 60% automated for you, it takes less than 10 minutes to configure this router.
Plug the router into your broadband modem. Turn the R800 in the Genie software on. Open your Chrome browser and head to "routerlogin.net". Now let the router detect your connection and configure everything for you.
The Genie software is a good addition to the package. Available for Android, iOS, and desktop devices, the software shows all the devices on your network and info about your network.
Other features of the Genie software include full parental controls, email notifications, traffic meter, and analytic dashboard for upload and download speeds.
Let me put it this way: with the Genie software, managing your network's setting just got easier.
3. TP-Link AC1900 Wireless Router
In my opinion, TP-Link AC1900 is the best router for streaming and gaming this year.
The router doesn't just support the 802.11ac next generation of Wi-Fi. It also supports a wider coverage and delivers a strong wireless connection, thanks to the Beamforming technology.
This device is the best gaming router for ps4 because the 5 GHz band does the heavy duty task of streaming 4K Ultra High Definition video games from the ps4 game console without lagging in performance.
And because the connection is stable and the internet high speed, you get exceptionally satisfying gaming experience ever. This router also has a 2.4 GHz band for daily tasks.
This router has a series of status lights at the top. Each light stands for an individual status, including line synch, internet connectivity, USB activity, 5 GHz, and 2.4 GHz band.
I feel the design is somewhat traditional. Yet, the combination of while and silver colors does make it attractive.
It has three antennas; all are detachable. Again, TP-Link AC1900 router isn't that big, so it won't take up a lot of desk space.
Unfortunately, you can't wall mount it, as it's designed for desk duty only.
4. NETGEAR AC5300 Nighthawk X8
If you are looking for one of the best gaming routers for ps4, you should try NETGEAR AC5300 Nighthawk X8.
Here's the thing:
NETGEAR knows how to stay on top of its game. And I think they've leveled up on Nighthawk X8AC5300 Tri-band with a new set of configuration.
The AC5300 Tri-Band uses a 4 x 4 configuration with 4 internal and 4 external antennae. Each antenna has a blue liquid emitting diode (LED) light, which signals an active status.
The amplifiers for the antennae of this router aren't located on the main board. Instead, they are on the antennae.
The bold move to change the position of the amplifier make a lot of sense – if you ask me – and for a good reason. With the amplifier on the antennae, users can expect signal boost without worrying about crosstalk.
Besides a standard Wireless Area Network Port, Nighthawk X8 Tri-Band Wi-Fi router features six LAN ports. Six is quite a number. At least multiple clients can connect and transmit internet data from the router at speed.
Nighthawk X8 is a tri band wireless router for gaming on ps4 and home use that's able to transmit a very large amount of internet data over a wireless network. The AC5300 is capable of speeds of close to 5.4Gbps over three different wireless fidelity networks (2.4 GHz, 5 GHz-1, and 5 GHz-2).
This router uses the Smart Connect technology to optimize Wi-Fi performance across a set network. What Smart Connect does is it assigns every device in your house, including your ps4 game console, the fastest Wi-Fi connection there is.
Nighthawk X8 is the only router that implements an active antenna technology. The integration is NETGEAR's big step towards improving the overall performance of the Wi-Fi system. It means that instead of amplifying signals from the base of the router, the active antennae technology amplify these signals through the antennae.
5. TP-Link AC1750 C7 Dual Band Router
The number of ps4 gamers increases every day, and so does the demand for stable and reliable internet.
And while not everyone can afford expensive routers like NETGEAR X8 for faster performance, TP-Link Archer C7 makes a perfect choice for gamers on a budget.
Simply put, TP-Link Archer Dual Band Wireless Router is an affordable router that performs like a premium one. It features 4 Gigabit LAN ports. And it supports USB 2.0 ports.
But the common problem with this router is that its web console is somewhat sluggish. Moreover, the navigation icons don't look too good.
It takes only a few minutes to setup TP-Link C7 Dual Band Router.
To start the installation process, connect the router to your desktop PC and internet. Power the router and then head to "tplinkwifie.net".
In the management console, choose the Quick Setup option, and then click Auto-Detect. Let the console find your internet connection. Then choose whether you want to run a single band Wi-Fi (2.4 GHz or 5 GHz) or a concurrent (dual band) connection.
Choose dual band, and then you will be taken to the settings screen where you can configure security settings. Once the TP-Link configures your security settings, you'll be ready to go.
This feature is not so common with many routers out there. So it is definitely a plus for TP-Link users. With the transmission control switch, you can turn Wi-Fi transmission on or off.
So, if you don't want to broadcast the internet when you are not gaming, you simply adjust the switch and you are good to go.
Did you know that this router can handle three lanes of data traffic quite well? What's more, it uses a beam forming technology to accurately match transmitted data with an appropriate receiver.
But this router does not implement the MU-MIMO technology. So, it isn't quite as powerful and effective for lots of hungry devices as other types of routers are.
Final Thoughts: A Buyer Guide
Ultimately, the best gadget for home use designed for PS4, is the one with the best features based on your needs as a heavy gamer. Here are a few things to consider before buying a router of this kind.
You need faster speeds, good hardware, and Wi-Fi bands that serve your needs. Consider a router with the latest wireless standards even though the PS4 works best with the 802.11n standard.
I suggest getting a router that supports 802.11n and 802.11ac standards. Get a dual-band or tri-band router for smooth gaming with you PS4.
The router should also have more connection options such USB connection ports, and LAN connection ports.
Faster data rates of transfer are also essential in ensuring there is no lag in connectivity hence you enjoy smooth uninterrupted gaming on your PS4. The router should allow you to optimize bandwidth for a preferred device.