The Best Noise Cancelling Headphones for Sleeping
Sometimes listening to your favorite music in bed is the only way to start your every night's rest. And what's better to get the most out of your top playlist than the best noise cancelling headphones for sleeping?
But, wait:
Isn't listening to music in bed a distraction to your time to rest in the first place?
Well, I know a nighttime of silence is purely golden. You can go to bed, cuddle in your blanket, close your eyes, and wait for sleep to come.
What better way to wash off the mental dust after a long, tiring day than to get enough rest in silence.
However, not everyone is lucky to get the quality of sleep that he or she really should.
Think of the annoyingly noisy neighbors who play loud music until late in the night. Don't they deny you the opportunity to get peaceful 6 to 8 hours of rest?
Worse, what about that partner who snores in some nights, or perhaps all the time?
Or, maybe you are not used to going to bed until late in the night. And you are looking for something that can keep you busy in bed.
That's where music and sleep headphones come in.
In fact, listening to music is more relaxing.
And it can help you fall asleep faster, even if you spend all your nights with a relentlessly snoring partner.
Table of Contents At a Glance: Best Sound Proof Sleep Headphones1. C Crane Company PS2 Pillow Speaker2. Contour Series Bluetooth Sleep Headphones3. CozyPhones Volume Limited Headphones for Kids 4. Sony Clip-on Stereo5. ZenNutt Beanie Hat Bluetooth Headphone
At a Glance: Best Sound Proof Sleep Headphones
For a headband that you can put under pillow, go for C Crane Company PS2 Pillow Speakers. They also work well on pillow, so you can put them close to your ears. These ones have volume control options for adjusting sound until you get what's good enough for your ears.
Contour Series Sleep Headphones is perfect for people who can't get to sleep fast. If you have insomnia, or you simply won't close your eyes early, Contour Series can help to save the night.
CozyPhones Volume Limited Headsets are a suitable choice for children. Because the pair is sturdy and lightweight,it replaces bulky options that annoy children all the time. Moreover, they are available in different characters, including monster, a smiley, a frog, and a panda.
For cheaper sound blocking devices for sleeping on side, we recommend Sony Clip-on Stereo. It is a very lightweight pair that delivers high quality sound. In fact, Stereo Clip-on is one of the options that responds really well to sound equalizer.
If you are looking for multipurpose headphones that holds really well in position, try ZenNutt Bluetooth Beanie Hat. It is a unisex set that looks more like a hood for sleeping or working out in the morning. Also, it makes a good choice for traveling, hiking, and staking.
1. C Crane Company PS2 Pillow Speaker
C Crane takes away from the usual design and designs good bed headphones that you can put under your pillow.
If you do not want to put this under, you can have it sit on the pillow instead.
Or, you can put the pair close to your ears. Then, adjust the volume to a level where you can get clear sound.
The goal is to get an ideal sound experience without having to reposition the speakers all the time. Because the pair is soft, flexible, and study, you can rest your ear on it for hours with no end.
C Crane PS2 Pillow may not be as loud as so many options on the market today, but it definitely makes a top of all options for that quiet nighttime listening.
The quality of the sound is good enough for that amazing musical experience.
These headphones are more than just flexible. They are also small and convenient to carry around. So, apart from using them in bed, you can also bring them with you on a road trip or a flight.
If you have to get these out of your bedroom, though, make sure you pack them properly in your travel backpack because they might spoil if stored inappropriately.
The volume control feature makes PS2 Pillow Speaker appropriate for sleeping.
Instead of using buttons for volume control, C Crane implements a slide controller that you slide to any direction you want to adjust the loudness of sound that should get through to your ears.
The volume control feature and the ability to work perfect even under pillow means you can listen to your favorite music all night without disturbing your partner.
Pros
Exceptional combination of quality, comfort, and privacy.
The cover is removable and easy to wash
The teddy bear soft cover is easy to remove and easy to put back in place
The volume control feature allows you to set sound to a level that won't disturb your partner
Cons
Doesn't work well under pillow.
If put under pillow, you will hardly hear anything, especially if you lay your head heavily right on the pillow
It is only reasonable to have this on your pillow instead.
2. Contour Series Bluetooth Sleep Headphones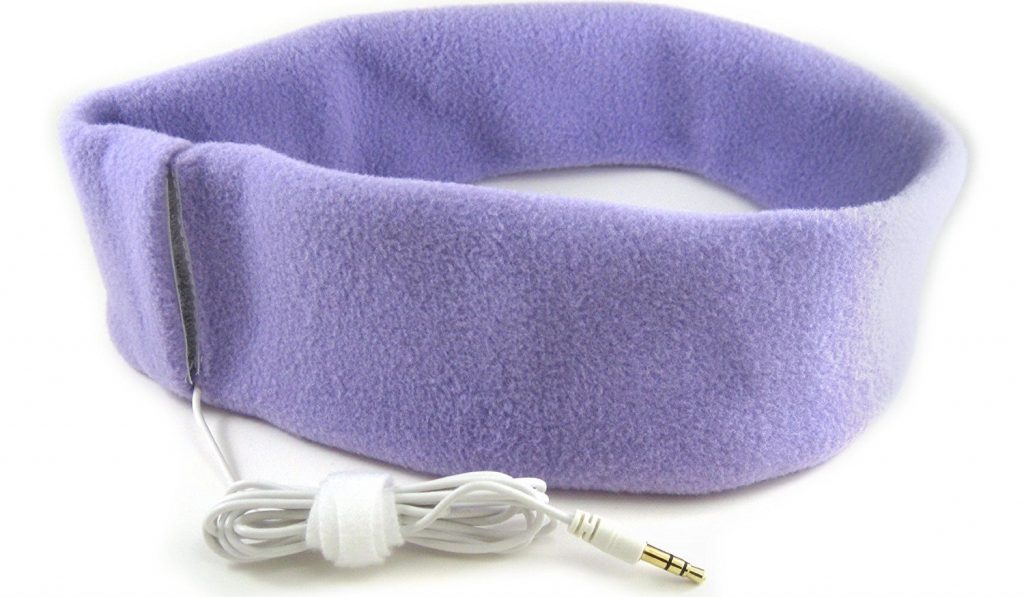 Contour Sleep Headphones, a set with a cool mesh lining for exceptional relaxation, fits perfectly over ears and holds in position to provide that perfect and stable fit.
Until today, it's a suitable choice for people with insomnia.
The ability to stay in position, even when you toss and turn in bed endlessly, makes this the ideal soundproof headphones that you can wear to bed every night.
And unlike standard headsets that let in noise from the surrounding, unless you increase volume, this pair cancels unwanted noise, giving you the musical experience you need to sleep better.
Wired earphones for nighttime sleep can be hard to use, especially if you toss and turn in bed all the time. This calls for a headset that you can use without having to worry about the cables.
And, Contour Series make a good option. That's because it can provide more hours of cable-free entertainment after just one charge.
Everyone tosses and turns in bed all the time.
And that's a good reason to grab a pair of noise cancelling headphones for sleeping that stays in position, regardless of the movements you make in bed. Contour Series makes an ideal option because it has a sturdy mesh lining.
The cool mesh lining does two things. It holds the pair in position throughout the night. It won't fall of your ears, no matter how many times you toss and turn in your bed.
Since it stays in position for hours, clear sound from any music you play is a guarantee.
Contour Series delivers a high quality sound experience, no matter the device you use.
In fact, it is compatible with many music players, including Blackberry, Android Smartphones, and Apple music players like iPhones, iPads, iPods, and MP3 players.
Another important thing worth mentioning is that this band is washable. Just remove the speakers from the wicking fleece, wash the band, dry it thoroughly, and then put it back in place.
Pros
Washable
Supports wireless connectivity
Compatible with most music players
Holds in position quite well
Also useful for traveling
Suitable for audio books and podcast
Perfect for that quite night time listening
All night comfort, no matter how long you toss and turn
Cons
Low on volume
The headband has no elasticity
Not suitable for very small heads
3. CozyPhones Volume Limited Headphones for Kids
CozyPhones Volume Limited is a soft, adjustable headband with small speakers that stay in place all the time.
It replaces bulky standard option that frustrate children all the time.
Because they are comfortable and fit perfectly, these are a must-have for daytime entertainment as well as for sleeping on side.
Moreover, the volume is limited to a level that's safe for a child. So, parents do not have to worry about their kids' ears getting damaged.
The headband is washable. All you have to do is to remove the small speakers, wash the band, and put the speakers back in place thereafter.
The ability to stay in place without support by hand makes CozyPhones the most comfortable sound proof device for sleep.
Moreover, they are 100% soft, and they do not press or irritate ears.
And you, the parent, doesn't have to be the one to adjust these for your child. He or she can do that without altering the balance of the small earbuds.
CozyPhones come in different colors and a variety of characters.
Whether your teenage child loves yellow, green, or blue color, or they are more into frog than the animal panda, whatever matches their interest is always available for grab.
These are designed for small heads, so they should fit any child's pretty well.
CozyPhones aren't just adjustable; they are also flexible. The snug-fit design put the speaker in position until a child decides to take them off.
Because they don't fall off, your kid can lay down with ease and sleep in them comfortably throughout the night, keeping them happier as they enjoy their favorite music.
Sure, kids' headphones break down all the time. And it gets frustrating because you have to replace them time and time again.
CozyPhones solves this problem. It is not just fashionable and kid friendly; it is also functional and durable.
Unlike standard headphones with short and weak cords, CozyPhones has an extra long and durable cord that will last for a very long time.
Pros
The fleece is soft
It comes with different characters, including a frog, a smiley face, a panda, and monster
Easy to adjust; a kid can do this on their own
The fleece is washable; so always keep this gadget clean
Cons
Not helpful for kids with big ears
Terrible for kids who love love loud music
Not suitable for kids above 12 years of age
4. Sony Clip-on Stereo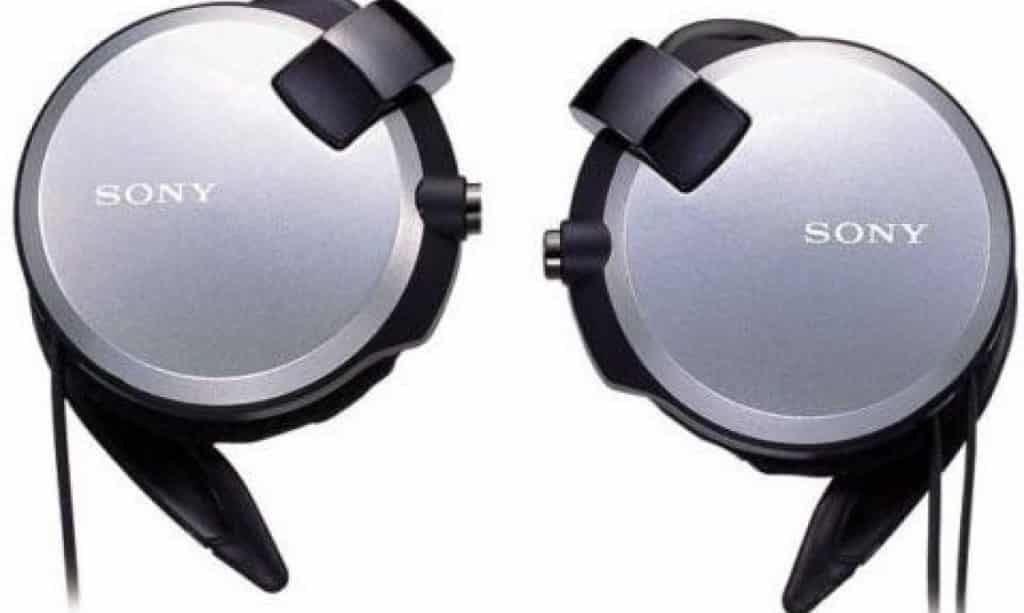 Sony has had an upper hand in quality electronic designs for years. And their Clip-on Stereo is one of the pocket-friendly, quality headsets on the market today.
It features a retractable, 1.2-meter cord that weighs only 38 grams. This stereo is the cheapest headphone with a premium feel from an established brand.
Clip-on Stereo is for people that hate to use bulky headphones. This one has one retractable cord instead of two.
And it delivers high quality sound that gives you the exact musical comfort that you expect from a  a well-known brand.
Clip-on Stereo is available in different color. Popular colors are black, blue, and orange. And, of course, there are additional colors to choose.
I have included this as a feature because color is important. After all, everyone has a favorite color, and the color of a pair of headset is not an exception to be frank.
The 1.2-meter retractable cord connects the earcups from the outside. This makes the earcups as lightweight as possible, so that you can have a great musical experience.
Sony Clip-on Stereo is made of high quality material, so it should last you long. It can withstand virtually any weather condition and work fine even after a drop or two.
Another thing worth mentioning is that this set won't shrug off, no matter how vigorous your physical you use it. If used properly, Sony Clip-on Stereo can work well for over 2 years before demanding a replacement.
Sony Clip-on Stereo can fit both small and big ears. So, it can be used by teens as well as adults who love to listen to music.
They stays well in position, regardless of how frequent you toss and tun in bed.
Many headphones in a similar cost bracket don't always deliver the best sound quality. But Sony Clip-on Stereo is different because they deliver clear sound.
And, they evidently strike a good balance between tremble and bass with a good response to equalizer.
Pros
Sound quality is great
Holds well in position
Can last for more than 24 months if well taken care of
Cheap headphones with premium quality
Responds well to equalizer
Lightweight
Cons
It does not come with a microphone
Lacks volume control
Can't cancel background noise
5. ZenNutt Beanie Hat Bluetooth Headphone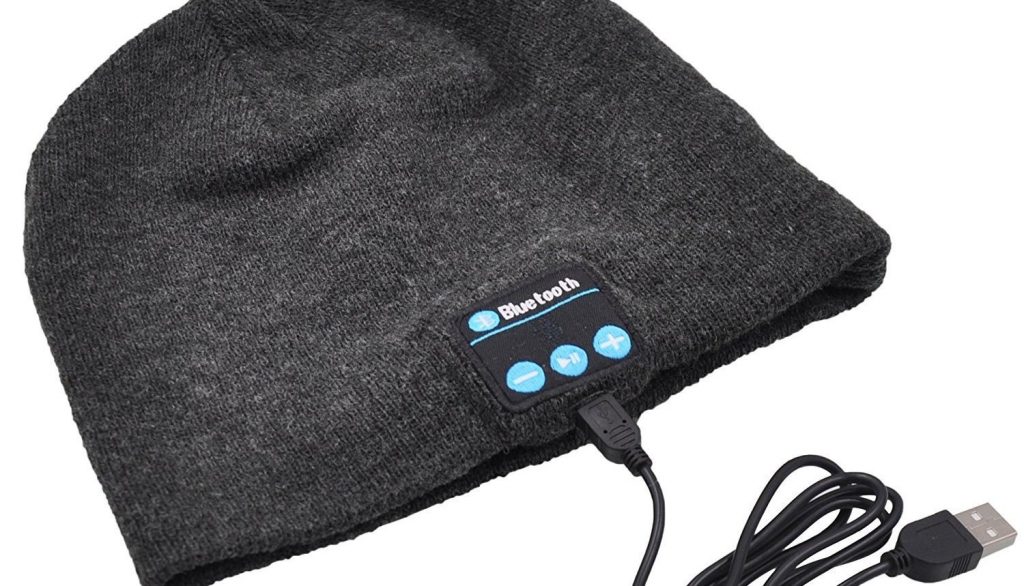 This unisex, elastic knitted stereo is soft, lightweight, and stylish in design.
It looks more like a sleeping hood.
And it's designed mainly to keep your head warm, while allowing you to listen to your favorite music in the cold and unfriendly night.
It covers head and ears. And both speakers hold in position pretty well.
So, it shouldn't fall off, no matter how many time you twist and turn in bed.
ZenNutt delivers excellent sound quality for nighttime music listening.
ZenNutt is dubbed universal beanie because one size can fit many people. That's regardless of the size of one's head; thanks to its adjustability.
Also, Beanie is washable. All you have to do is to remove the speakers from the pouches, and then do the washing.
ZenNutt Beanie can standby for 60 hours without losing any of its charge. With a single 2-hour charge, you get about 4 hours of playtime, which isn't quite good in my opinion.
The package includes a unique USB charger for the ZenNutt Beanie Hat.
It doesn't take long to pair ZenNutt Beanie Hat with music devices that support Bluetooth connection. In fact, it pairs well with tablets, smartphones, and Bluetooth-enabled laptops.
Apart from using ZenNutt to listen to your favorite music or online podscast, you can also use it to make or answer phone calls.
Pros
Supports wireless connectivity
Works well with most music players
It is a multipurpose headphone
It is cheap
It is unisex; good for both men and women
Because it is universal, anyone can wear it
Fits small as well as big heads pretty well
Cons
The battery life isn't great
For a headphone, 120 minutes of charge is quite awkward
Playtime not suitable for heavy users