The Best Headphones for PSVR in 2021
Do you think you need the best headphones for PSVR for effective gaming? Or can you simply use any headset to get your gaming binge going?
Understand this:
You can use the wraparound earbuds that come with PlayStation 4 VR headset, but they may not be as effective as killer gaming headphones.
More often than not, earbuds are prone to falling out during gameplay, and they may not even be suitable for gamers with small ears.
This is why it is a good idea to invest in the best headphones for PSVR.
Unlike earbuds, PSVR headsets often stay in position for hours, and their chance of falling out is almost zero.
With many wired and wireless headphones out there, you are spoiled for choice on what to pick. Even then, consider headsets with good sound quality and over-the-ear coverage.
Over-the-ear, closed back headphones are ideal because they mute the world around you. They also give you the comfort you need to play your favorite game for an extended duration.
| Rank | Image | Name | Rating | Price |
| --- | --- | --- | --- | --- |
| #1 | | PlayStation Gold Wireless Stereo | | |
| #2 | | Bose QuietComfort 25 | | |
| #3 | | Sony's PlayStation Platinum Wireless | | |
| #4 | | NAD Viso HP50 Headphones | | |
The Best Headphones for PSVR in 2020
With that said, here are the top-rated options that can give you the biggest bang for your bucks.
1. PlayStation Gold Wireless Stereo Headset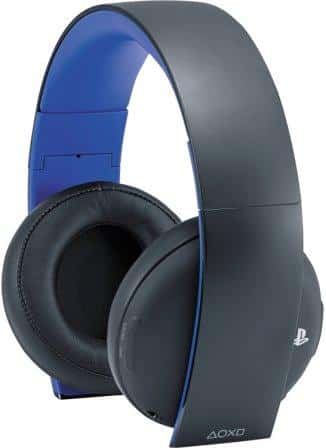 If Sony Interactive Entertainment's earbuds aren't good enough and wired headphones won't just suit your gaming mood, PlayStation Gold Wireless Stereo Headset will do the trick.
This one is for gamers who move around a lot with PlayStation Move Controllers, especially at the peak of the game when things get a little bit challenging and more interesting.
Gold Stereo Headset is Sony's brand product, a fantastic make built to last for the long haul.
Designed for occasional and regular gamers alike, these ones deliver the high quality sound you need from your PlayStation VR headset.
Gold Stereo is a good alternative to wired headphones. So, it packs the punch for players who don't want to deal with dangling cables during their gaming sessions. And what's more? These ones go for less than $100, so they should be as easy on the wallet as possible.
Gold Stereo Headsets aren't designed just for PlayStation 4 and PlayStation 3. In fact, when you are not using them on your PSVR headset, you can connect them with your phone to make phone calls or your personal computer and use them to watch movies.
I would still recommend using these headphones in their wireless form when playing your favorite game on the VR headset. At the same time, a 3.5-milimeter audio cable is included for people who love to switch between wireless and wired headsets from time to time.
2. Bose QuietComfort 25
Bose QuietComfort 25 lets you experience powerful, quality sound of you PlayStation Virtual Reality headset, while cancelling out all the external noise for a full immersion experience.
The QuietComfort 25 is an upgrade of the QuietComfort 15, a headset with deep, powerful sound performance and an improved folding design.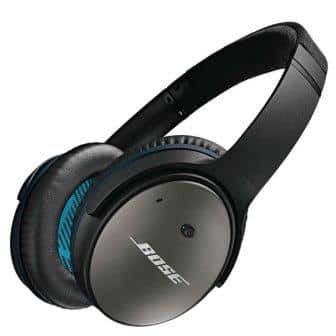 The headband design of QuietComfort 25 is a lot better than that of the QC15. It's made of felt combo pads and cotton, which doesn't just feel soft and easy on ears but also doesn't warm or dampen from continuous use.
QC25 is also lightweight – weighing only 6.9 ounces (about 196 grams) – so you can use them with your PSVR for hours without really feeling the weight.
You will notice a lot of plastic construction on the QC25, pretty much the same way it is with the QC15. However, Bose did step things up a bit by striking a solid balance between sturdiness, weight, comfort, and durability of these headsets.
​Bose scores some good points for the comfort, design, and compatibility of these headphones. And, the noise-blocking feature is quite impressive in my opinion. By blocking out all the external noise so that you hear only the virtual reality world, you end up getting the best user experience than you would with regular, low-quality headsets.
3. Sony's PlayStation Platinum Wireless
It won't take you more than five seconds to realize that Sony's commitment to design and style shines through in this premium headset.
What you get for the asking price is more than just a pair of PSVR headphones with a carrying pouch for storage and transportation.
You get a feature-packed, high-end unit with a more personalized premium feel.
Sony's PlayStation Platinum Wireless headphones are different from normal over-ear headset because of their sturdy build and feature placement.
It is made of a mix of matte black plastic and brushed stainless steel, and the audio controls are smartly placed for easy access when in use. They fold away fast and fit quite well in their carrying pouch.
Whether you are playing your favorite PS4 game or trying a new title on the VR headset, the punchy bass and clear highs delivered by these headphones can bounce you out of your gaming chair into a full immersion experience than most headphones will.
Sony's Platinum are the only PlayStation VR headphones on this list that combines both the virtual 7.1surround sound and 3D Audio technologies, both of which ensure you will never miss the sound of anything in your virtual world.
4. NAD Viso HP50
While NAD Electronics isn't as old as Sony Interactive Entertainment, it still brings to the market a pair of headset that provides accurate sound for the price.
Not only is the NAD Visio HP50 lightweight with a total weight of just 8 ounces, it comes in three colors – red, black, and white – so you can choose your option accordingly.
NAD balances the sound of these headsets quite well.
And given their stable fit, these should help you get the most out of your PSVR world.
While the ear cups are well padded with memory foam to make them feel soft and easy on the ears, their design is somewhat disappointing.
To be clear, not every avid virtual reality user will love the rectangular shape of the ear cups, although I should say this often comes down to personal preference.
It would have been great if the Viso HP50 were easy to store. But, as you can imagine, they aren't compact.
Even then, they fold flat easily and you get a beautiful carrying case to store them away when they are not in use.
Although NAD Viso HP50 is one of the best headphones for PSVR enthusiasts, it misses the noise-cancelling feature for most headphones.
It's going to work well in quite environment and pull you through quite well in less noisy areas. But, it's not an ideal option to use in extremely noisy surroundings.
5. Bionic Mantis PSVR Headphones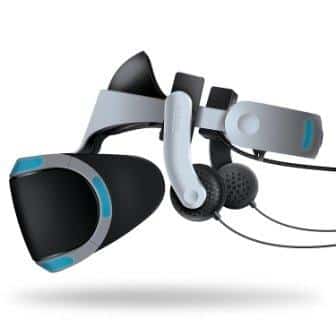 Bionic Mantis is the cheapest headphone on this list, going for under $50 – and no extra cost.
And, it is a good option for people who are looking for something designed just for PlayStation VR.
Although they look more like the best sounding earbuds, they aren't in-ear pieces.
Instead, the set is designed to clip and hold tight on your headset and rest comfortably against your ears.
Bionic Mantis PlayStation VR headsets have two advantages over hundreds, if not thousands, of headphones out there.
First, because they clip right on your headset, you don't have to worry about the discomfort of headphones digging into your head.
And although this isn't something to worry about most of the time, Bionic Mantis remains a good option for gamers who have to take their headphones off for reasons such as the headphones becoming heavy or becoming too uncomfortable.
Second, they are a perfect alternative to in-ear earphones because – unlike earbuds – these won't jam your small ear canals.
The Bionic Mantis headphones deliver the kind of sound quality you won't find with any old-school headsets. So, they should click directly with your PlayStation virtual reality headset.
What's interesting is that the superior sound quality of these cheap gaming headsets is a lot more similar to some of the pricey options on this list.