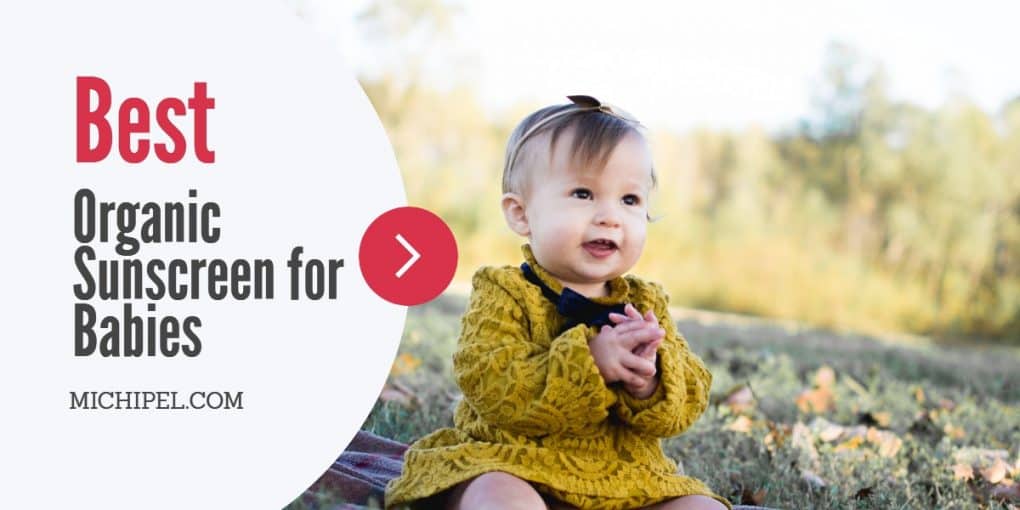 Best Organic Sunscreen for Babies: 5 Choices for 2018
God's green earth wouldn't be a better place without the sun. It's nature's best gift that makes the world a better place to be. Being the primary source of vitamin D, the sun is a basic need, the natural light babies, kids, moms, and dads can't live without.
But, when you remember that sunrays can burn your baby's skin and put them at risk of a long-term illness, it's best to limit how much exposure you give them. This is exactly where the best organic sunscreen for babies comes in.
| Editor's Choice | 2nd Choice | 3rd Choice | 4th Choice |
| --- | --- | --- | --- |
| | | | |
| Organic Baby Sunscreen with SPF 32 | Badger SPF 30 Baby Sunscreen Cream | Babyganics Mineral Based Sunscreen Spray | Blue Lizard Australian Sunscreen |
| Our Ratings | Our Ratings | Our Ratings | Our Ratings |
| | | | |
Non-toxic sunscreens for babies are meant to protect your child from harsh UVA and UVB rays. And, once you apply these on your child's skin, you can let them enjoy all the fun activities outdoors without worrying about sun damages.
The goal of this guide is to help you choose safe, oil-free, and parabens-free sunscreen with good SPF value.
What's the Best Organic Sunscreen for Babies?
List of Organic Sunscreens for Babies
Zinc Oxide Sunscreen for Babies
1. Organic Baby Sunscreen with SPF 32
Nurture My Body Sunscreen with zinc oxide is enriched with Shea butter and Olive oil to keep your baby safe from harmful ultra violet rays.
Certified as 100% organic, with a toxicity rate of zero and uncoated zinc oxide, Nurture My Body is perhaps the only best sunscreen for babies under 6 months as well as babies above the age of 6 months.
No Chemicals, No Bullshit
You baby's skin should never get into contact with creams that can cause harm.
We've recommended Organic Baby Screen by Nurture My Body because of its toxicity rating of zero by Environmental Working Group.
This means it doesn't have chemical ingredients and other toxic bullshit that rogue and careless manufacturers add to baby products.
Pure Protection
It's a natural sunscreen because it contains organic ingredients.
The strong blend of Shea butter and jojoba oil is strong enough to protect your baby's skin from harsh sunlight.
At the same time, these ingredients help to soothe and proactively moisturize your baby's skin.
What you will like
The zero toxicity rating makes this the best organic sunscreen for babies on our list. And with 8 natural ingredients, with no single trace of additive, this sunscreen can protect your child from sunrays quite effectively.
What you won't like
It is quite thick, so unless you shake it before applying it on your baby, you are going to have a very hard time.
---
2. Badger SPF 30 Baby Sunscreen Cream
Badger SPF 30 Baby Sunscreen Cream can protect your baby from both UVB and UVA rays, thanks to the safe zinc oxide.
This cream doesn't have even a single trace of sun screening agents, so it should work fine for your baby all the time.
Some parents might find this baby cream somewhat difficult to apply. But, that's only for a while, as it takes a short time to get used to it.
The cream is whitish, but it is often a good idea to make sure it turns clear during application.
It's easy to do this. Once you apply the cream on your baby's skin, rub it gently until it turns clear.
A Water Resistant Sunscreen
Badger Baby Sunscreen Cream won't resist water for long.
But it should do so for at least 40 minutes. That's a long time considering that babies don't usually play with water.
The most important thing isn't even the water resistance aspect, but the natural nature of the product.
Made of a mix of Vitamin E, sunflower oil, and beeswax, this sunscreen is good enough to offer your baby maximum protection from the soon, while moisturizing and soothing their tender skin.
It's all-natural
You can sure bet that this sunscreen will work best for your baby, for the simple reason that it's all natural.
With not even a single terrace of toxic chemicals, there is no reason to get worried or uncomfortable about Badger SPF 30 Baby Sunscreen Cream. Remember, it is rated as 100% hypoallergenic.
Where it fails
The only problem with this type of sunscreen is that it stains white clothes. Even then, it should be easy to wash out the stain.
Overall, this is a good organic sunscreen to apply on your baby before taking them outdoors.
---
Best Sunscreen for Babies with Sensitive Skin
3. Babyganics Mineral Based Sunscreen Spray
Babyganics Mineral Based Sunscreen Spray is said to glide on smoothly. But there's more to it than just the effortless application.
It is from toxic chemicals, tear free, and non-allergenic. So, you can apply it on any exposed parts of your baby's body.
Because it has a good SPF value, expect this spray to give your baby maximum protection all day long.
Broad Spectrum Protection
This sunscreen is not just gentle. It also provides your baby with broad-spectrum protection whenever they you take them outside the house.
Apart from being easy on skin, Babyganics Mineral Spray doesn't sting. It shouldn't hurt if it accidentally gets in your bay's eye(s).
Safe Enough for Babies
Don't let the 'mineral' phrase startle you. Babyganics sunscreen is as safe for your baby exactly as it claims to be.
It is parabens-free and there are no traces of phthalates in the cream. What you are buying is a product your little one can wear anytime you plan to take them outdoors.
What you'll like
Although it contains a smaller amount of filler content, it still offers the best protection from both UVA and UVB rays. It's water resistant.
Also, it won't sting your baby's eyes when spraying.
What You Won't Like
I wouldn't say Babyganics Mineral Spray is the best sunscreen for babies under 6 months of age because it contains some filler chemicals.
The chemical content is small, though. So, this won't hurt kids above this age group.
As this is spray, you'd expect it to work on the go. That's not the case, though. You still have to rub after pray. It can stain white clothing, but the stain is easy to wash off.
---
4. Blue Lizard Australian Sunscreen
Blue Lizard Australia Sunscreen is perfect for babies with extra sensitive skin. It is chemical free, gentle on baby's skin, and tough on the sunlight.
You'll love this sunscreen because of its mineral content. This means it sits on your baby's top skin, and will not be absorbed into their skin's deepest layers.
For Body and Face
Blue Lizard Australian isn't just for the face. Feel free to apply it on your bay's whole body if you have to.
Make sure you pay more attention to the areas that get exposed to sunlight whenever you take your baby out.
Thanks to the chemical-free, fragrance-free, and paraben-free ingredients, Blue Lizard Australian sunscreen is safe enough for babies with sensitive skin.
Different from Traditional Sunscreens
When it comes to providing full protection from UV rays, I'd confidently say that Blue Lizard Australian Sunscreen doesn't disappoint one bit.
You'll love it because it doesn't have questionable chemicals.
Plus, it ability to provide broad-spectrum protection makes it a good option your little one.
The Glitters
In the fight and spirit to say no to BPA organic synthetic compound, even the bottle containing the sunscreen is completely BPA free.
Besides being paraben-free and fragrance-free, this sunscreen guarantees broad-spectrum protection all the time.
Where it fails
It might appear a little bit oily and shiny for some people, but that's not something to worry about, if you ask me.
---
Hypoallergenic Sunscreen for Babies
5. CeraVe Baby Sunscreen with SPF 45
If you hang around cosmetic or fashion aficionados, you've probably heard of CeraVe.
It's the brand known for making high quality skincare products for different skin types.
From a collection of the brand's products is the CeraVe Baby Sunscreen with SPF 45. This sunscreen is both fragrance-free and hypoallergenic.
So, your baby can wear it for so many hours without getting a rash or developing an itchy skin.
Beyond the Label
Labeled as a baby's sunscreen, many parents only use this on their children's skin.
But, since it's so gentle on skin, think of using it beyond the label. That's because it is perfectly fine to use it on your skin as well.
Ethically Sourced Ingredients
What you will love about this sunscreen is that its ingredients are ethically sourced. It doesn't contain any irritating chemical additives, not even a single trace.
The likes of sulfates, fragrances, and parabens don't simply exist in the mix. All the ingredients come from natural, organically sourced and carefully used.
Because the ingredients are 100% organic, this sunscreen should be easy on different skin types, particularly irritated skin. You can use this one even on babies with eczema.
The Glitters
CeraVe Baby Sunscreen with SPF 45 is gentle on baby's skin. Even parents should feel free to use it sometimes.
The fact that it's fragrance-free means it is the best organic sunscreen for babies with sensitive skin.
CeraVe Baby SPF 45 is the only sunscreen that's water-resistant for 80 minutes.
And, because it offer broad-spectrum protection, your little one should be safe from the sun, no matter how long you two spend outdoors.
The Not So Rosy
There are at least two problems with this sunscreen. They are not health-related, though.
Some people simply find it hard to rub on baby's skin. I do think that you can get used to it over time.
Also, the package is very small. I would not recommend it if you are not willing to buy frequently.