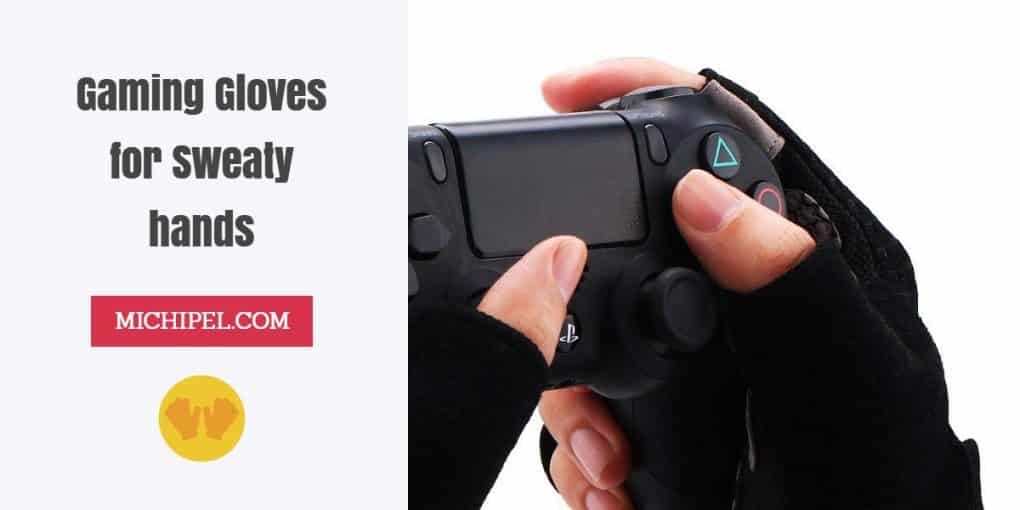 Gaming Gloves for Sweaty Hands: 5 Options to Consider in 2018
While the market is flooded with many gaming gloves for sweaty hands, Elite Performance Generation (EPG) Xbox for Gamers by Gamers is the best for most people. These anti sweat pair are perfect for long hours of use, especially because of their wonderful grip. These are breathable, and they help keep your blood floor at normal rate while controlling possible moisture build up.
---
Whether it's your first time on a gaming binge or you are a regular gamer, you know how hard playing your favorite game can get when your hands start to sweat.
The little breaks you take in between could ruin the moment, and the entire session might end up unnecessarily boring.
More often than not, playing bare hands will get the controller a little moist.
And although this is not always a problem for most people, it's still inconveniencing – because the controllers end up being difficult to use. This is where the best gloves for gamers with sweaty hands come in.
| Editor's Choice | 2nd Choice | 3rd Choice | 4th Choice |
| --- | --- | --- | --- |
| | | | |
| EXCO Wrist Support Gloves for PC Gamers | Elite Performance Generation for Gamers | Huadduo Sun Sleeves Gloves | Hexotech Pro Gaming Gloves with Grip |
| Michipel's Rating | Michipel's Rating | Michipel's Rating | Michipel's Rating |
| | | | |
These types of hand wear not only give your fingers a better grip; they also maintain constant temperature and keep your hands as dry as possible, so you can enjoy your favorite game without worrying about taking breaks in between.
Best Gaming Gloves for Sweaty Hands Reviews in 2018
1. EXCO Wrist Support Gloves for PC Gamers
EXCO professional gaming glove is ideal for intense PC gaming fanatics who are looking for a solution to avoid getting their hands sweaty while playing PC games with their mice.
The glove is also suitable for people who are demanding more flexibility and wrist support.
Its fabric is considerably lightweight because it is made from the same cloth used to make driving costumes.
The section that separates the wrist and the hand is lined with a padding to provide support while holding the mouse.
EXCO professional has a thumb loop for an easy 'put on and take off' and may serve you for long because of its high quality stitched edge.
Built using neoprene, the glove can reduce the growth of odor and can be easily hand washed.
The compression fitting and breathable fabric provides health benefits by avoiding painful wrist movements.
In addition, the glove helps regulate blood pressure from the arm to the fingertips, which means a gamer is able to maneuver faster. The fingers are left uncovered for a better mouse movement and finger dexterity.
---
2. Elite Performance Generation for Gamers
Designed by Gamer Gloves, the Elite Performance Generation helps to keep your blood flow at a normal rate throughout your play session.
In addition, it has a good grip and is suitable for long gaming period because thanks to its breathability as well as the ability to curb moisture build ups.
Your gaming experience on your mobiles and gaming pads is made more precise by the gloves' Sure-Touch fingertips. The Exo Compression fabric not only improves your muscles' recovery time, but also minimizes possible injuries.
The comfort flex design is included to maintain a high level of dexterity as the player moves in different kinds of motion, and their ability to keep your hands at an optimum climate is still uncharged. In addition, the full friction barrier protects your hands from blisters and abrasions.
Keep in mind that Elite Performance Generation gloves are designed for Xbox games, but they may also be used for other related gaming activities.
There have been a few complaints about the pair, so I wouldn't say the quality is not 100%. First, its inner is bulky, which explains why it doesn't feel so comfortable.
As such, the EPG gaming gloves for sweaty hands would not be the best option for gamers who use keyboards to play.
Its price has also not been warmly received by most gamers. Moreover, some gamers have suggested the redesigning of the glove to fingerless because the functionality of the tips is not up to the value of a product.
---
3. Huadduo Sun Sleeves Gloves
The glove is generally meant for women who love gaming.
The glove assists with typical diseases that most gamers are familiar with. It has a height of 42cm and a width of 10cm.
With Huadduo Sun Sleeves, you can have a better play for long without any low levels of skill degradation rates and pain complaints.
By definition, Huadduo Sun Sleeves is extraordinary gaming glove made of a cloth to protect your arm from sunburns, scratches and cuts and therefore provides you with high levels of dexterity and serves you for a very long period.
Additionally, your hand is kept dry and cool by the vented overlays and that is why this glove is ideal for longer gaming sessions.
The compression-like feature on the glove also improves air circulation; this helps your muscles and curbs fatigue. It is made fingerless to prevent straining injuries.
The main reasons why we prefer this glove is because it has a very high level of dexterity, it protects against abrasion and blisters, it promotes a healthy blood circulation, it has an excellent grip, and it is made of breathable fabric that prevents moisture build up.
Overall, the glove seems to be a solid product and the "fingerless" issue shouldn't bother you that much; it is simply designed that way to make you feel more comfortable in them.
---
4. Hexotech Pro Gaming Gloves with Grip
Hexotech Pro Gaming Gloves feature an excellent grip so everything you hold is highly unlikely to drop.
Its fingerless design caters for all kinds of gamers, and a true tactile touch is included to make it more encompassing.
It is made of a stretchable ultra-soft and light fabric.
Sometimes you may not realize you are having them on and that is why it is ideal for long gaming hours.
With the hexagonal traction, a gamer is assured of maintaining his or her powerful grip even after experiencing extreme sweating.
Your sweat is combatted by the breathable materials used to make the glove, and as such, you still maintain a high level of dexterity.
The glove can be used on almost all types of controllers, including PlayStation 4 and Xbox One controllers.
Unlike many gaming gloves for sweaty hands, these particular ones offer greater range of motion for easy gameplay.
Moreover, its look and design also makes it rank high in the gaming department. Although its material quality is low, it is still a perfect option.
---
5. Yorha Anti-Slip Gaming Glove
Sweaty hands are what most gamers develop especially when they are game for long hours.
This becomes a reason for their poor performance, and this is exactly where Yorha gaming gloves for Xbox One, Switch, and PS4 comes in.
With the breathable design, a comfortable fit, and anti-sweat features, these gloves can take the sweating frustrations away and let you enjoy your game for the long haul.
Yorha Anti-Slip Gaming Glove is constructed from a high quality stoma fabric that makes it more comfortable when fitting. In addition, they are encrusted with an isometric silicone grip on the palm area to give you a better gameplay experience even when your hands are sweaty and clammy.
Additionally, Yorha gaming glove features a moisture wicking property, so you don't have to worry too much about getting this glove sweaty in the inside.
Its fingerless design is included to boost your gaming performance.
Overall, the glove is of good quality, cozy and comfortable. Keep in mind that Yorha Anti-Slip doesn't feature any finger coverage, but this doesn't affect your gaming experience. At the time of writing this review, these gloves come in one color.