Is The Garmin Forerunner 35 Waterproof? Brief Garmin Forerunner 35 Review
Before you go swimming or scuba diving with your Garmin Forerunner 35, you need to ask yourself one fundamental question:
Is the Garmin Forerunner 35 a waterproof fitness tracker?
Well, it isn't, Same as other fitness trackers. So putting it in the same category with truly waterproof fitness tracking devices doesn't seem a good justification for its reputation at all.
Ideally, the Garmin forerunner 35 band is the only best for cardiovascular activities, gyming, running, and other fitness-derived activities that do not involve water. But that doesn't imply that you must keep your Garmin Forerunner 35 completely away from it.
In short, the gadget is not specialized for water but can perfectly survive if it makes contact with it. So when anyone asks about forerunner 35 water-resistance abilities, it's a mid-range water-resistance fitness band.
So what Forerunner 35 is all about?
For a very summarized introduction, the Garmin forerunner 35 watch band is a beginner-oriented fitness band with lots of unique features to enjoy in its portfolio. Among all features, this cheaper version by Garmin introduces a sheer accurate optical heart rate sensor, activity and sleep tracker, smart notifications, and a good battery to use.
Is the Garmin Forerunner 35 WaterProof? No, A Basic Water-Resistant Band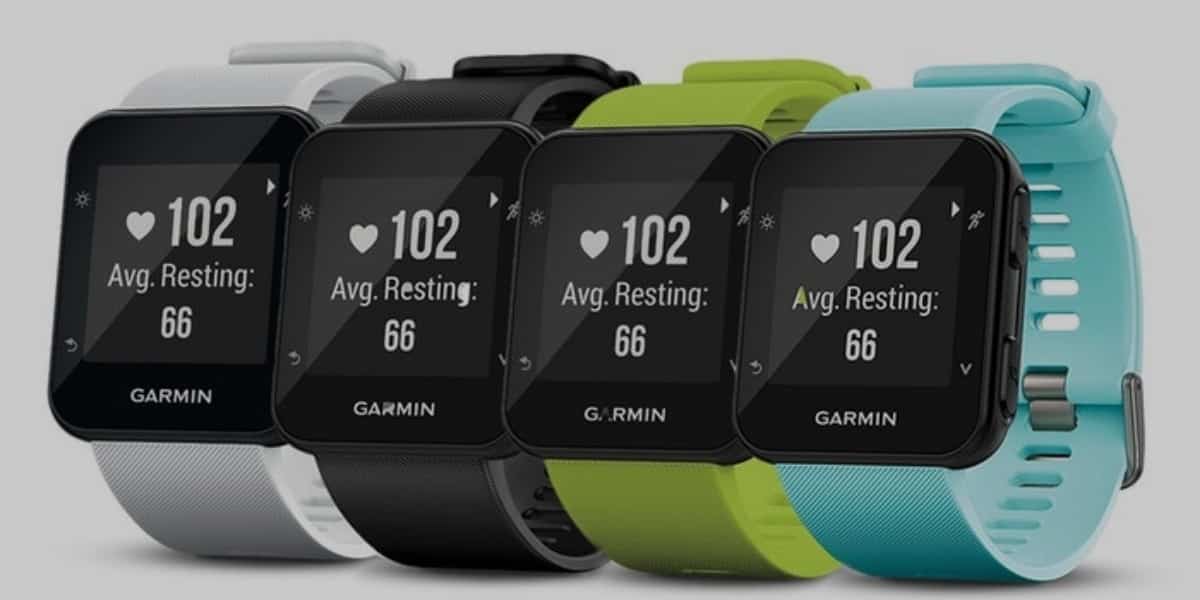 Strictly speaking, the Garmin Forerunner 35 is not waterproof. However, the gadget is water-resistant for up to 5 ATMs.
When a device is waterproof, it means that it can withstand water to a particular level before giving in.
In the case of Garmin Forerunner 35, you would have to go to depths of 50 meters below water for damage to occur. To reach such depths, you'd actually need to use an underwater breather.
So if you intend to destroy the gadget, first buy a diving kit!
For Garmin Forerunner 35 Swimming ability, a person does not have to remove their Forerunner 35 when taking a normal swim. But the device cannot really track swimming strokes and distance. So if you are into swim tracking, you can take advantage of other smartwatches, like Garmin Swim and Forerunner 935.
Moreover, if you are keener to go for a short Garmin Forerunner 35 review, be very watchful; a short forerunner 35 review coming ahead.
Garmin Forerunner 35 Review: Features and Abilities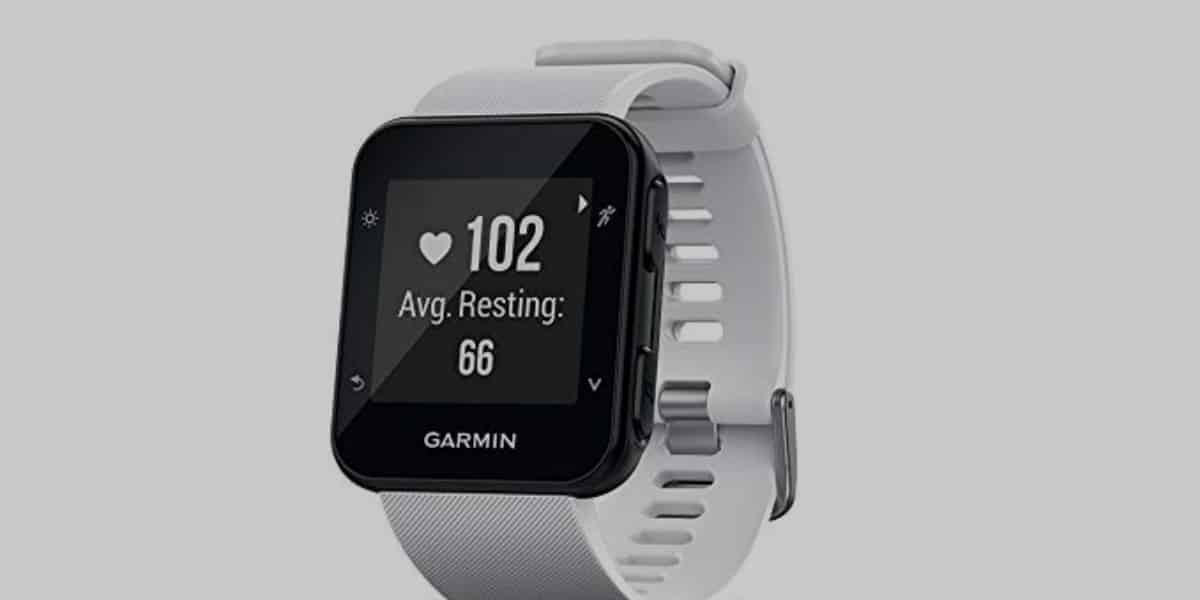 Pros:
Easy usable for non-techies with a straightforward interface
Competitive pricing
Comes with Move Bar, PlayBack, and Smart Notification support
Highly accurate GPS
It comes with a variety of colorful straps
A good value for money
Cons:
Old-school design
Missing GLONASS support
Garmin Forerunner 35 GPS Running Watch:
Inside the Forerunner 35, the stuff really gets interesting. You cannot compare the sheer accuracy and power of this device with that of watches of the same price range.
Take the Garmin forerunner 35 GPS feature, for example. It loads quite fast, so you can be sure that it will cover and store details of every single step of your route. We tested it with TomTom spark 3 and Polar H7; the accuracy was comparatively spot-on.
The only disadvantage the Garmin forerunner 35 GPS pushes, you might not be able to capture some location data (specifically when you run fast) if your path stretches into a small or large building due to a lack of GLONASS support. Although this is a common limitation due to its price, and you can enjoy these features in high-price forerunner variants.
Garmin Forerunner 35 Features:
But then, the fitness athletes would definitely find their satisfaction in a display of brief but insightful data about your activity in running mode. The data types are represented in two columns, or you can say the screen splits into two sections.
On one side, you get information about your activity performance like distance covered, pace, and duration. While the other segment shows critical data about your body like heart rate zone, calories burned, and current heart rate.
But what surprises us the most is, being a budget model, it still gets the Garmin signature MoveBar. You see this innovative feature in Vivofit, and Vivosmart watches, but amazingly, you get here too.
If you don't know what Move Bar is, it's a smart notification that pop-ups to screen if you are inactive for a long duration. This helps you to remain active and motivated towards your goals.
And the Design Part:
Besides, it adopts a simplistic design where the menu is in the form of a list. But I would say it felt like an old-school design in an era of most stylish fitness band.
The non-touch thick bezels design of the Garmin Forerunner 35 watch band doesn't fascinate me all. Maybe just because I watch it as a knowledgeable techie who is well-aware of things, but beginners like teenagers or adults maybe a sigh of relief as it eases the usability.
So, what this forerunner 35 band does, instead of having to tap on one icon after another to reach what you want, you simply scroll to a favorite item.
With a straightforward interface, even the most tech-unaware person will quickly learn how to interact with this device. However, some users consider the simple and straightforward design waste of time because there is no other shortcut for directly going for an item in the menu.
If you are the kind of person who doesn't like looking at their phone now and then for notifications, the Forerunner 35 is the kind of gadget you should be looking for. After you have granted this device the right permissions, it will inform you instantly when you receive various notifications on your mobile phone.
From the Forerunner 35's interface, you can also choose which notifications it should bring to your attention and which ones it shouldn't via smart notification features. Moreover, you can also set it to inform you only when you are doing an activity or at all times.
If anything, the Forerunner 35 is, without a doubt, a good device that can help a wearer to get used to exercising. And Garmin 35 Forerunner doesn't make it unnecessarily expensive to put in the list of smartwatch or fitness band users list.
Garmin Forerunner 35 Swimming: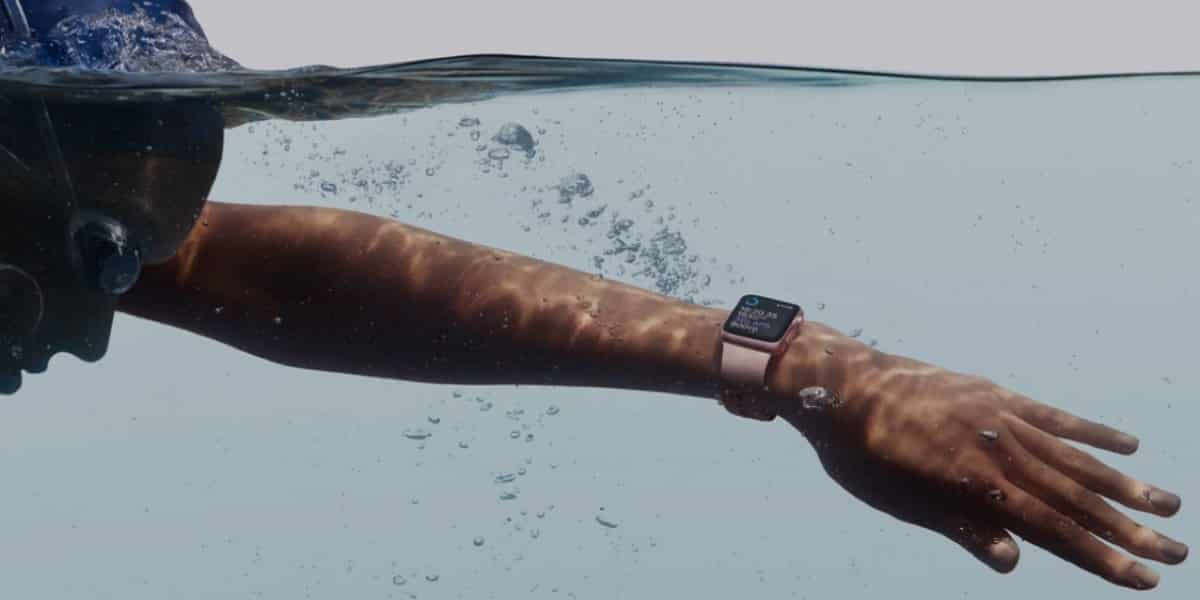 Image Credit: Wearable
Although Forerunner 35 isn't a swimming tracker, you can still use Garmin Forerunner 35 swimming features to measure other aspects of exercise even when you are submerged.
For instance, the heart rate tracker still works underwater and reliably collects data about the wearer's heart zone.
This tracker uses pulses in hand to compute heartbeat, and your pulse will always be there whether you stay inside or above water. But it is important to remember that this device will not measure your strokes or the distance you have covered while swimming.
Garmin Forerunner 35 Battery Life:
If one asks you about Garmin watches most heart-taking feature without going much technical, its battery life that'll surely come to your mind without any second thought. The manufacturer kept the same story here with forerunner 35 as it has claims of 13hours of battery life behind it.
We categorize battery life in two ways: one the GPS mode, and the second with non GPS mode. With Non-GPS mode, the numbers are highly unbelievable as the manufacturer tells us that Garmin forerunner 35 battery life is about 9 days.
The GPS mode cuts the forerunner's 35 battery life into 13 hours. However, it isn't short anyway, and you can spend a whole week with this sort of battery juice.
On the whole, the Forerunner 35 is small but definitely a battery king indeed.
What makes Garmin Forerunner 35 Unique?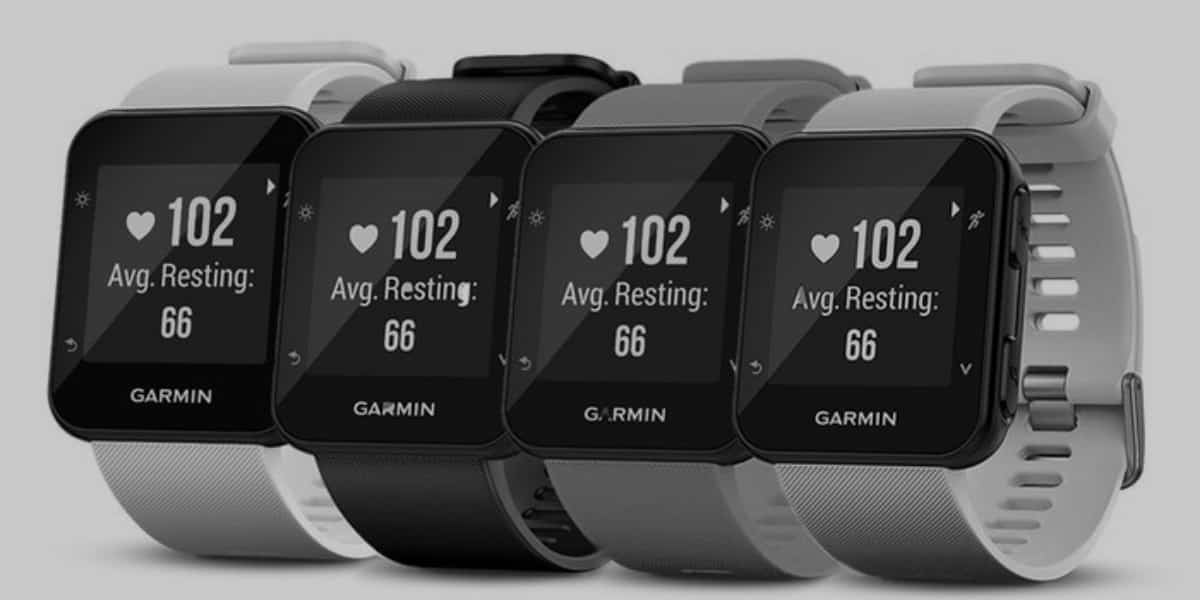 The Price, Usability, some unexpected features in short pricing!
Many users have described the Garmin 35 as partly sporty and partly official. It has a flat, square-like face that makes it an ideal wear for both men and women.
For easy interaction with a user, and as I mentioned, it isn't a touchscreen-enabled watch, there are four buttons, two on each side, which carry out different dedicated functions.
While on the run, the user doesn't have to keep peeping or tapping on the screen to do quick tasks like selecting a workout, move through items, or moving to the previous menu.
The Forerunner 35 also has a large display of 0.93 inches with an impressive pixel concentration of 128 x 128, which, in our opinion, improves its visual appeal.
Comparing it to many other fitness trackers, the Forerunner 35 sets itself apart with its brighter and crispier display.
Just like other Forerunners, the F35 has come with beautifully designed straps. They are also strong and long-lasting even after exposure to moisture.
Moreover, you don't have to stick to the strap that the watch comes with. There are plentiful alternative straps of different colors and sizes that you can buy and interchange from time to time.
Removing and fixing new straps is easy, as long as you have a small screwdriver and know how to use it.
The Bottom Line – Wrapping Up the Story:
On a short note, is the Garmin Forerunner 35 Waterproof? No, like others. Technically, It bends more toward running and cardio activities and attracts users who don't want to invest heavily in an expensive gadget. The abilities and features are somewhat mixed. Due to its attractive pricing, it makes some sacrifices yet, also delivers extraordinary in some areas. In easy words, it's an all-rounder with the most prominent Move Bar, Playback music, smart notification, and more accurate GPS support.
If you are interested in classy watches packed with interesting features, and you do not mind the fact that the device is not waterproof, you should think about trying the Garmin Forerunner 35.