What Is an Ionic Hair Dryer and How Does it Work?
If you are a regular visitor to salons, you must have come across the term ionic hair dryer during one of your numerous visits.
The question is:
Do you really understand what it means and how it works?
In this article, we'll tell you everything you need to know about this type of a hair dryer.
In particular, you learn what an ionic dryer means, how it works, its pros and cons, and the most common brands that design them.
Let's get started.
What is an Ionic Hair Dryer?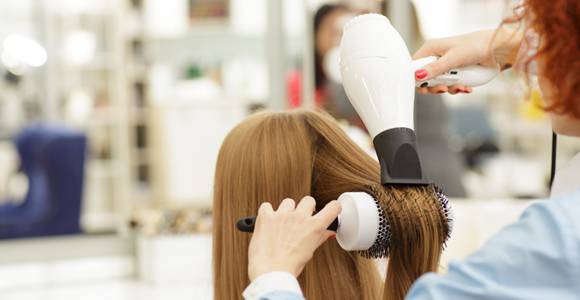 These dryers use an ionic technology to dry your hair quickly and effectively, leaving it smooth and shiny after every drying session.
To put this into perspective, the ionic technology releases millions of negative ions at once to break down water molecules into smaller particles.
The negative ions promote faster evaporation of water, neutralize static hair, and minimize fly-a-ways.
They also lock in moisture into hair follicles, giving them a shiny look throughout the day.
List of Ionic Hair Dryer Brands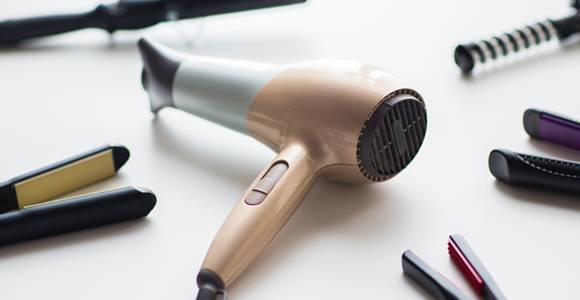 While the market is flooded with many hair dryers, not all of them are ionic.
And not all options that fit in this category will suit you. It's therefore important to make sure you choose and buy an ionic hair dryer that suits your hair type.
With that said, here are some of the most popular brands known to design hair dryers with built-in ionic technology.
1. Ovente
If you were in the market for an ionic hair dryer with a hood attachment, it would probably be a good idea if you get one from Ovente.
The brand not only designs durable hair products. It also ensures that its hair dryers are convenient and easy to use.
For example, their 3-speed hair dryer stand gives you the flexibility you need to dry any type of hair at your own pace.
With an upward flow of air, Ovente's dryer ensures the ions distribute properly to quickly and evenly dry your hair.
2. Conair
If you want to save up to 50% of drying time and reduce frizzle, then an ionic dryer by Conair is probably the best option for you.
It's lightweight and easy to handle.
And it features an intuitive solid ceramic Tourmaline heat protection technology and ionic functions, which saves on drying time and it doesn't trigger heat that could possibly damage your hair.
3. Remington
The airflow of Remington ionic dryers is so powerful that it results in a skillfully dried hair.
What else would you expect from a dryer with a triple combination of tourmaline, ceramic and ionic technology?
Moreover, Remington some dryers feature cold shot buttons and anti-static elements that allow moisture to lock in well.
4. NITION
As a brand, NITION designs unique dryers, which you can easily bring with you wherever you want to go.
They are generally lightweight in nature, so their portability shouldn't really be an issue for you.
The outlet grills of these hair dryers feature a ceramic coating, an argon oil seal, and protective tourmaline technology.
Together, these features help to prevent hair damages, while giving you a shiny appearance that makes you look your best.
The Biggest Problem with Ionic Hair Dryers
Probably the most common disadvantage of hair dryers with ionic technology is their cost.
Some are high-end, thus somewhat costly for some people.
As an example, ionic domed dryers could cost you over 100 bucks. And if you don't have this kind of a budget, then you're likely to buy a dryer later in the future.
However, manufacturers are doing everything possible to ensure you get the best option if you're on a very tight budget. Today, you can get a hair dryer under $100.
And if your budget is super tight, you might want to consider an option that goes for just 50 dollars or below.
The Benefits of Ionic Hair Dryers
Although ionic hair dryers are quite expensive, they give you value for your money since they have tons of advantages as compared to the conventional ones.
Below are some of the advantages of using ionic hair dryers.
1. They Reduce Hair Drying Times
An ionic dryer uses an ionic technology to break down water molecules into smaller particles making the evaporation process easier.
The faster the evaporation takes place, the faster the hair dries.
2. The Dryer is Durable
If you have shopped around for hair dryers, you have probably realized that the ionic types tend to have a higher price range than conventional dryers do.
Even then, they are more durable with a longer lifespan.
So what you get for the money is a unit that will last long and serve you for month, maybe even years, to come.
3. Less Heat Damage
It's important to understand that this type of a dryer tends to be very gentle on hair.
Unlike the standard options, these ones use less heat to dry hair.
And it's for this reason that you don't have to worry about hair damages.
4. The Dryer Leaves Your Hair Soft
The negative ions released by ionic hair dryers help hair follicles to lock in moisture.
This moisture is important because your hair needs it to remain soft.
In fact, the more the moisture, the softer your hair becomes.
And what you get in the end is a softer, comfortable hair that you can walk around in for the better part of the day.
5. Easy and Comfortable to Use
The ionic hair dryers are light, this makes them easy to handle and comfortable to use.
Unlike standard dryers that are heavier, ionic dryers are easy and comfortable to use because they are less likely to cause discomfort to your arms and shoulders, thanks to the lightweight nature.
Final Words
Now that you understand more about ionic hair dryers, you understand better why they are the fastest and safest option to dry your hair.
From the way an ionic dryer works, and the end results that it gives you, not forgetting all its advantages, there is no doubt that it's among the most ideal hair dryers in the market today.
Overall, use a hair dryer with an ionic technology if you want to save time and end up with smooth, silky and shining hair.